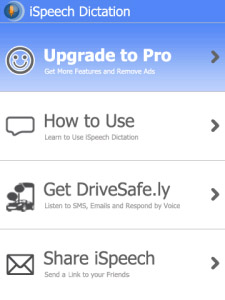 Tag:
9930 apps
iSpeech
Dictation
Overview :
iSpeech Dictation Pro v1.0.14 - Compliments of BlackBerry
OS 7.0+
size: 651 kb
model: Torch 9850/9860, Curve 9380, Bold 9790, Torch 2 9810, Bold 9900/9930, 9981
Description:
iSpeech Dictation Pro is free of charge until May 31st, compliments of BlackBerry. Thank you for choosing your BlackBerry 7 OS smartphone.
Speak any message and iSpeech Dictation Pro™ will put it into text format. Send your BlackBerry Messenger (BBM), text (SMS), emails or voice notes by voice. The app's human-quality speech recognition is powered by iSpeech®, a leading speech provider for mobile developers and businesses, and the creator of the award-winning application, DriveSafe.ly®. Learn more at www.iSpeech.org.
Speak any phrase or message and iSpeech Dictation Pro™ will translate it into text. Talk and type.
iSpeech Dictation Pro™ Features:
*Convert any message into text by speaking it
*After speaking the message, the text will appear in the text box
*Use for sending BlackBerry Messenger (BBM), text (SMS), emails, voice notes