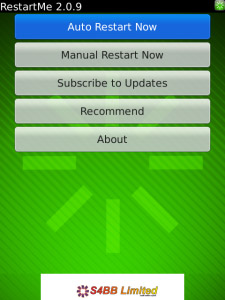 Tag:
s4bb
RestartMe
Overview :
RestartMe 2.1.1 for blackberry apps
os 6.0 - 7.0
size: 571 KB
model: Curve 9300 3G, Curve 9330 3G, Tour 9630, Bold 9650, Style 9670, Bold 9700, Bold 9780, Bold 9788, Curve 9350, Curve 9360, Curve 9370, Storm 9500/9530, Storm2 9550/9520, Torch 9850/9860, Torch 9800, Curve 9380, Bold 9790, Torch 2 9810, Bold 9900/9930, 9981
Description:
This is the easiest way to restart the BlackBerry®! No more battery pulls! Simply open Restart Me and allow the application to restart your device for you!
Use the Automatic Restart to easily restart your device with the push of a button. Or choose Manual Restart to choose between different options. Don't pull the battery out of your device anymore, simply use Restart Me for a reboot.
Features:
★ Restarts the device with just a click of a button.
★ Avoids complicated combinations to restart your device.
★ Manual Restart or Automatic Restart.
If you like Restart Me please write a review. Thanks.
This product comes with a 30 day value back guarantee. More info: http://s4bb.com/returnpolicy.

If you like the bb apps, Please share to your friends!