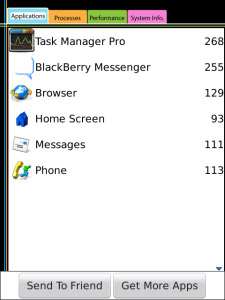 Tag:
9630 apps
Process View
Task Manager
Overview :
Task Manager and Process Viewer v3.0.0 for blackberry apps free download
OS 5.0,6.0,7.0
size: 684 KB
model: Pearl 9100 3G, Pearl 9105 3G, Curve 8520, Curve 8530, Curve 8900, Curve 8910, Curve 8980, Bold 9000, Curve 9300 3G, Curve 9330 3G, Tour 9630, Bold 9650, Style 9670, Bold 9700, Bold 9780, Bold 9788, Curve 9350, Curve 9360, Curve 9370, Storm 9500/9530, Storm2 9550/9520, Torch 9850/9860, Torch 9800, Curve 9380, Bold 9790, Torch 2 9810, Bold 9900/9930, 9981
Description:
Task Manager and process Viewer - Demo for BlackBerry® enables you to view a list of all running applications and see detailed system info like Free Flash Memory and Battery Temperature etc. The app also allows you to drill down into each application to reveal information about its Size, Vendor, and Version No. etc.
The Paid Version also has separate tabs of Processes and performance, where you can view the list of hidden apps and processes running in the background which are otherwise undetectable.
Please note, killing a process on BlackBerry® is technically not possible, RIM does not provide an API for this because of security reasons. The application will show you what all hidden background processes are running - you may manually close these processes.
Features:
*Application: View the list of all running apps on your device.
*Processes: View all Hidden Apps and Running Processes in Background which cannot be detected otherwise.
*Detail View: Drill down into each app to reveal its size, download date-time etc.
*Performance: View a performance graph of Battery over time.
*System Info: View important parameters about your BlackBerry like Free RAM, Free Flash Memory, Battery Temperature etc.
We would also like to invite you to try our other apps. Some of them that you will love are : Empower Threaded SMS, Secure Photo, Battery Saver, Call Notes, SMS Counter, Lock Facebook for BlackBerry, Voice Reminder and Lock for BlackBerry Messenger. You can find them in BlackBerry AppWorld by searching on vendor name "Ajani Infotech".
If you like the app, Please share to your friends!