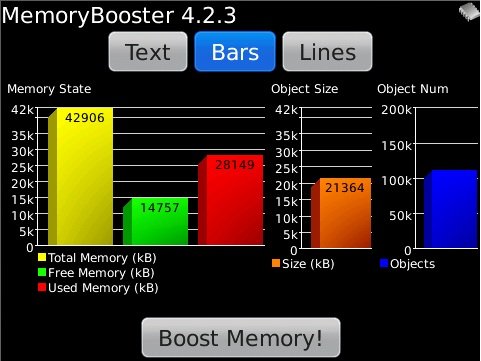 Tag:
Memory Boost
RAM Optimize
Overview :
Memory Booster v4.2.4 - RAM Optimizer
OS 5.0,6.0,7.0
size: 254kb
model: Pearl 9100 3G, Pearl 9105 3G, Curve 8520, Curve 8530, Curve 8900, Curve 8910, Curve 8980, Bold 9000, Curve 9300 3G, Curve 9330 3G, Tour 9630, Bold 9650, Style 9670, Bold 9700, Bold 9780, Bold 9788, Curve 9350, Curve 9360, Curve 9370, Storm 9500/9530, Storm2 9550/9520, Torch 9850/9860, Torch 9800, Curve 9380, Bold 9790, Torch 2 9810, Bold 9900/9930, 9981
Description:
***PROMOTIONAL SALE - 50% OFF!*** Get the best selling, highest rated, and most advanced memory utility and squeeze peak performance out of your BlackBerry®!
+++ Nominated for Global Mobile App Awards 2011 by GSM Association! Rated Top 3 BlackBerry App by Fortune Magazine! +++
This WEEK only $4.99! Get it now before the price is back at $9.99!
Boosts your device speed by recovering wasted memory.
Features:
* Optimizes BlackBerry® memory usage.
* No device reset required. Therefore a lot faster than other applications!
* No new hardware: Software only solution. No additional hardware needed! Does not influence any other applications.
* Visuals: Fancy bar/line charts and textual high performance memory overview.
* Automatic Background Boosting: Make sure the BlackBerry® is never wasting memory!
* Statistics: Extensive statistical data for effectiveness tracking.
* How it works: If memory is wasted, MemoryBooster improves the memory management of the BlackBerry® Java Virtual Machine JVM which optimizes the device performance and stability. MemoryBooster recovers lost memory that is then free and can be assigned to running applications. You will see your applications running faster after using our Boost Memory! function. By simply hitting the Boost Memory button you can recover up to 12 MB or even more depending on your device.
Ubiquitous Rule: The more memory available the more memory your other applications can use and therefore, the faster these applications run.
Defining memory: MemoryBooster boosts only runtime memory. This means it improves the BlackBerry® s memory usage for running applications which has a positive effect on the overall speed of the BlackBerry®. MemoryBooster does not do anything with the media card memory which is the space for file storage only and would not have any effect on the speed of the phone anyway. Therefore, please do not compare our product with the Options - Memory listing of the BlackBerry®.
Watch MemoryBooster on YouTube: http://bit.ly/blackberry-memorybooster
MemoryBooster rated in Fortune: http://bit.ly/fortune-top3
If you like MemoryBooster please write a review. Thanks.

This product comes with a 30 day value back guarantee. More info: http://s4bb.com/returnpolicy.