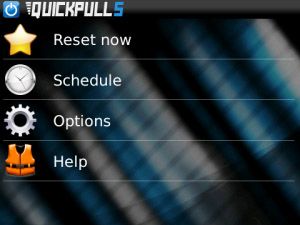 Tag:
9800 apps
torch
QuickPull
Overview :
free QuickPull v5.1.2 for bb os5.0-6.0 apps
Model:Pearl 9100 3G, Pearl 9105 3G, Curve 8520, Curve 8530, Curve 8900, Curve 8910, Curve 8980, Bold 9000, Curve 9300 3G, Curve 9330 3G, Tour 9630, Bold 9650, Style 9670, Bold 9700, Bold 9780, Bold 9788, Storm 9500/9530, Storm2 9550/9520, Torch 9800

Description:
*** UNINSTALL QUICKPULL BEFORE UPGRADING! ***
QuickPull 5 is the latest iteration of one of the most popular BlackBerry® applications ever. With over 3 million users in 35 countries, QuickPull has become the "must have" utility of every BlackBerry® user. QuickPull 5 is no exception. Completely rewritten from scratch, it offers the most compatibility, most stability, and easiest use of any version of QuickPull to date.
QuickPull 5 sports a new "fluid" UI, giving your device the visual appeal it deserves while making it intuitive to get things done.
The "Scheduler Dashboard" makes it even easier to schedule automated QuickPulls and provides you with an at-a-glance overview of your schedule history and settings.
New social integration with Twitter enables you to effortless let people know you're about to be MIA, or to brag about how much easier it is to use QuickPull 5 than break a nail on your battery door.
Finally, after each QuickPull you'll receive a personalized "Post-Reset Report" showing you just how much memory you gained by running that reset. Instant (well, 5 minute or so) satisfaction.
Best of all, QuickPull 5 with all these features are completely FREE! So go on, download QuickPull 5 today.
Can 3 million people really be wrong? Well, historically, yes, but they're not. Trust us.