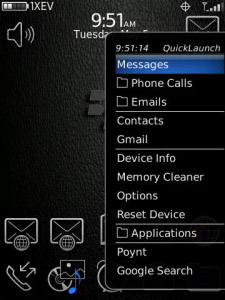 Tag:
9780 apps
9788 apps
QuickLaunch
Overview :
QuickLaunch v3.7.3 for blackberry 89,96,97xx apps
OS 5.0,6.0
Model: Curve 8900, Curve 8910, Curve 8980, Tour 9630, Bold 9650, Bold 9700, Bold 9780, Bold 9788

Description:
ON SALE NOW!!
Awards:
2010 Best OS Enhancement App - Crackberry
2009 Best Productivity App - Crackberry
QuickLaunch is a must have app for every BlackBerry®. With an interface that is seamlessly integrated with the look of the BlackBerry® OS, QL will create shortcuts to most any application on your device w/ ease and style.
QL allows you to setup shortcuts to various functions such as Websites, Email, SMS, Phone, Apps, Vids, Pics, Docs, Audio, Device Info, Bluetooth, Camera, and many other native BlackBerry® functions!
Configure a convenience key to activate QL and when pushed a menu will popup showing a list of your configured actions which can be set to appear on the Right or Left side and can be shown on any screen so you can perform any action w/o navigating thru your homescreen and folders saving you time. Quick easy access to what you want to do wherever you are!
BEFORE PURCHASING PLEASE VISIT NIKKISOFT.COM FOR MORE INFO AND DEMO VIDEOS!
New Features
* Multiclick launch via Space bar
* Scheduled Reboots
* Transparency options
* Bedside Mode
* Border Size
* Expandable Menu Size
* Opera Mini Support
* Screen Capture in sys menu
* crunchSMS support
* Password Toggle
* Email subject header
* Max text len increased
* Larger Font option
* 1, 2 or 3 letter shortcuts
* Configurable Homescreen Hotkey - run QL from your keypad while on the homescreen
* Websearch - Integrated search to the following: Google, Yahoo, Bing, Amazon, eBay, BBC, Google News, Google Images, Youtube, IMDb, Dictionary, Thesaurus, Wikipedia
* Multi-click Launching by convenience key double, triple or quadruple click
* Backlight Brightness Setting
. BlackBerry® Messenger 5, Yahoo Msngr, Google Talk and MSN Support
. New Memo
. Flashlight
. Auto backup
. Bluetooth Toggle
. Check for Updates function
. GPS Config shortcut
. Tilt Lock
. Stay Lit - Keep your BackLite on
. Backup / Restore
. Mobile Connection On/Off
. App Switcher
. Submenus
. Weather
. System Menu Integration