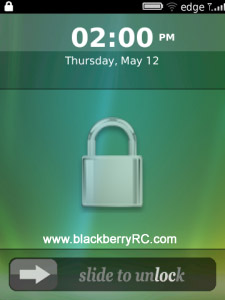 Tag:
Slider Lock
9000 apps
Overview :
Free Slider Lock v3.2.47.2183 for OS5.0/6.0 apps
OS 5.0, 6.0
Model : Pearl 9100 3G, Pearl 9105 3G, Curve 8520, Curve 8530, Curve 8900, Curve 8910, Curve 8980, Bold 9000, Curve 9300 3G, Curve 9330 3G, Tour 9630, Bold 9650, Style 9670, Bold 9700, Bold 9780, Bold 9788, Storm 9500/9530, Storm2 9550/9520, Torch 9800

Description:
** Slider Lock Free supports touch screen and non-touch screen devices. **
Slider Lock Free is designed to lock your BlackBerry® and prevent any unwanted key press and pocket calls. Even if your BlackBerry® is unlocked by accident, it is still protected by Slider Lock and you do not need to worry about the Send key or any unwanted key pressed. Slider Lock also automatically locks your BlackBerry® when screen dims.
Fast setup: Enable or disable.
Easy: Just slide the arrow button to unlock your phone.
Adjustable slider size.
Slider Lock Timeout: delay Slider Lock to lock your phone.
The time and date are displayed on the slider lock screen.
The reception strength and battery status are also displayed on the slider lock screen (for devices with OS6.0 and up.)
Slider Lock also works with the optical trackpad.
Exclude applications: you can setup this feature to disable the lock while using the selected applications.
Battery life - Slider Lock does not drain your battery.