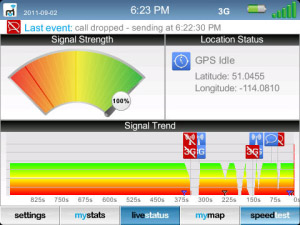 Tag:
9330 apps
8980 apps
Coverage
Overview :
My Mobile Coverage v2.0.1 for blackberry os5.0 apps
OS 5.0
Model: Pearl 9100 3G, Pearl 9105 3G, Curve 8520, Curve 8530, Curve 8900, Curve 8910, Curve 8980, Bold 9000, Curve 9300 3G, Curve 9330 3G, Tour 9630, Bold 9650, Bold 9700, Storm 9500/9530, Storm2 9550/9520

Description:
Create your own personalized coverage map; effortlessly visualizing dropped calls, actual data speeds, voice quality and other network performance metrics - Free!
Users of the MyMobileCoverage can:
• View the live status of the network signal strength
• Map and view the locations of dropped calls
• Map and view your actual 3G coverage and identify trouble spots
• Rate your voice quality
• Share statistics with your operator customer support
MyMobileCoverage runs in the background to collect information and then displays all of the information using the BlackBerry® application or at our website http://mymobilecoverage.com.
Send feedback to us at info@mymobilecoverage.com.