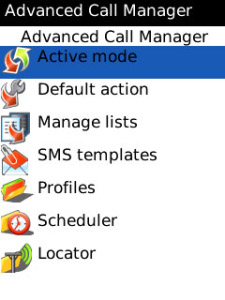 Tag:
Advanced
9810 apps
Call Manager
Overview :
Free Advanced Call Manager v2.71 applications
Required Device Software
4.5 - 7.0
Model:
Pearl 8100, Pearl 8110, Pearl 8120, Pearl 8130, Pearl Flip 8220, Pearl Flip 8230, Pearl 9100 3G, Pearl 9105 3G, Curve 8300, Curve 8310, Curve 8320, Curve 8330, Curve 8350i, Curve 8520, Curve 8530, 8700, 8707, 8800, 8820, 8830, Curve 8900, Curve 8910, Curve 8980, Bold 9000, Curve 9300 3G, Curve 9330 3G, Tour 9630, Bold 9650, Style 9670, Bold 9700, Bold 9780, Bold 9788, Curve 9350, Curve 9360, Curve 9370, Storm 9500/9530, Storm2 9550/9520, Torch 9850/9860, Torch 9800, Torch 2 9810, Bold 9900/9930
Description
ACM lets you assign different call block actions to filter out unwanted calls: Send busy/Drop, SMS reply, Mute, Pick & hang up. Save blacklist profiles and schedule them to auto-run. Get rid of spam and regain control over your mobile life!
No matter how advanced your phone is, when you receive a call you can either answer or hang up. Advanced Call Manager (ACM) gives you a helpful technology boost providing you with more choices.
** Advanced Call Manager Free is the free limited version of our best-selling Advanced Call Manager. While you will be able to view the full menu and features of the original ACM, you will not be able to save and enable some of the settings, marked with * in the description below. **
---Call block options
- Send Busy tone – avoid acting rude by hanging up
- Busy tone and SMS*
- Mute the ringer*
- Pick up & Hang up*
--- Handle groups of contacts*
The easiest way to handle your calls is to divide callers into lists ("Friends," "Work") and assign blocking rules for each:
- Work with blacklists and whitelists
- Various contact import options
--- Call-management profiles
Once you know who you would like to block and how, save your settings in ready-for-action profiles (configurations). Choose from 5 different active modes for your profiles: reject all calls, accept calls only from phonebook, reject from blacklist*, accept from whitelist* or reject all plus a custom action*.
--- Scheduling*
Use the "Scheduler" to change profiles automatically or the "Locator" to switch profiles according to your location.
-- Best practice --
If you'd like to be able to receive calls even if you forget your phone, try Advanced Forwarder. It allows you to forward calls to any other number and can be activated remotely. Read more and get free trial from: http://appworld.blackberry.com/webstore/content/2839