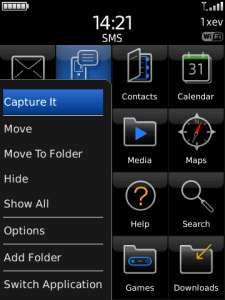 Tag:
9900 apps
9780 apps
CaptureIt
bold apps
Overview :
CaptureIt v2.4 for blackberry 9780,9900 apps
Required Device Software:
4.5.0 or higher

Supported devices:
Pearl 9100 3G, Pearl 9105 3G, Curve 8520, Curve 8530, Curve 8900, Curve 8910, Curve 8980, Bold 9000, Curve 9300 3G, Curve 9330 3G, Tour 9630, Bold 9650, Style 9670, Bold 9700, Storm 9500/9530, Storm2 9550/9520

Description:
CaptureIt helps to take a screenshot of what is currently displayed on your BlackBerry® screen. You will never lose the important information on the screen that you would like to keep and share. Simply one click, you can easily take a screenshot of your BlackBerry® screen. This app works like the "Print Screen" key on your computer keyboard.
****IF YOU ARE SEEING WHITE SCREEN AFTER TAKING SCREENSHOT PERMISSION IS NOT PROPERLY SET, WHEN CAPTURING SCREENSHOT, IN THE PERMISSION SCREEN CHECK MARK THE "Do not ask again" AND PRESS "Allow". THIS SHOULD RESOLVE WHITE SCREEN PROBLEM**********
The easiest way to share others what you see on your screen. A screenshot of like:
* a game you scored highest score
* rankings in a top list
* funny sms/mms
* capture a screenshot and send to somebody you want
* the map of your location
* a web page
* a chapter of the book you're reading on
* now playing song/video/radio
* IM conversation with a friend
* your Facebook/Twitter screen
* a funny/serious thing you want to share
* any screen where you can launch our menu can be captured
Features:
* One click screenshot.
* Save in most popular image files: PNG and JPEG.
* Add comments with screenshot.
* Save the screenshots in the device memory or SD memory card.
* SWYS - Save What You See.
* Email the screenshot with anybody.
* Share screenshot with friends via Facebook.
* Sound and vibration notifications when the screen shot is taken.
* Configurable save location.
* Assign a convenience key and take screenshots anywhere.
* System wide menu items for your ease of use.
* No USB cable or accessories are required
* Trial version can capture upto 100 screenshots.

TIP1!
You can assign CaptureIt to a BlackBerry® convenience key and can easily and quickly capture any screen including your home screen!
TIP 2:
When taking first screenshot your device will alert with an allow screen. Select the checkbox of do not ask me again. Otherwise you will get a white screen with no screenshots.
HOW TO SET IN Convenience Key(the left or right key of your BlackBerry):
Go to Options, then Screen/Keyboard.
Then scroll down and you will see Left Side Convenience key and Right Side Convenience key. Click on the drop down and select CaptureIt from there.
Request:
If you like our application, please write and rate our products in AppWorld.