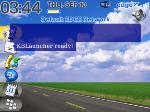 Tag:
9500 apps
9600 apps
KBLauncher
Overview :
free KBLauncher v1.1.1.2 for blackberry apps download
Model:
Blackberry 82XX Series (240x320) Pearl Flip Devices Models: 8200, 8220, 8230/Blackberry 8350i (320*240) Related Devices Model: 8500, 8520/Blackberry 83XX Series (320*240) Curve Devices Models: 8300, 8310, 8320, 8330 / Blackberry 87XX Series (320*240) Devices Models: 8700c, 8700r, 8700f, 8700g, 8703e, 8707, 8707g, 8707v .etc /Blackberry 88XX Series (320*240) Devices Models: 8800, 8820, 8830 .etc /Blackberry 89XX (Javelin) Curve Series (480*360): 8900/Blackberry 90XX Bold (Onyx) Series (480*320) Devices Models: 9000, 9020(Onyx)/Blackberry 96XX Tour (Niagara) Series (480*360):9600, 9630, 9650(Tour2), 9700(Bold) /Blackberry 95XX Storm Series (360*480):9500, 9510, 9520, 9530, 9550(Storm2)
Description:
KBLauncher is an application launcher and switcher. It lets you very quickly run any of your dozens of commands by typing the beginning of its name. In short, it is a command line for your BlackBerry.
Like many BlackBerry users, you are good at typing. Your keyboard kung fu leaves onlookers in awe. Your fingers are a blur of motion. But when it's time run one of your many great apps on your BlackBerry, you have to scroll painfully through countless icons with your trackball. You know exactly what you want: why do you have to waste all this time? Now you don't. Just configure one of your convenience keys to start KBLauncher, and your apps will always be just a few keystrokes away.
Features
Fast command access.
No setup. KBLauncher automatically your apps. apps.
KBLauncher learns from your usage by prioritizing your recently used commands.
Works on SureType keyboard layouts (Pearl, Pearl Flip, Storm).
Cool transparent window effects.
Run commands not normally available on your Home screen: WiFi toggle, memory cleaner.
Low memory requirements: tiny install footprint!