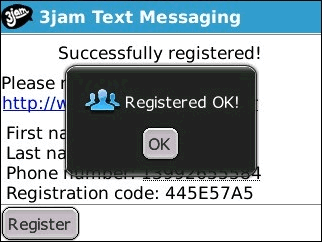 Tag:
sms
Overview :
3jam Threaded SMS and Group SMS application
Model:
Blackberry 71XX Series (240*260) Devices Models: 7100, 7110t, 7105t, 7100r, 7100v, 7100g, 7100x, 7100i, 7130e, 7130c, 7130g, 7130v/Blackberry 81XX Series (240*260) Pearl Devices Models: 8100, 8110, 8120, 8130/Blackberry 82XX Series (240x320) Pearl Flip Devices Models: 8200, 8220, 8230/Blackberry 8350i (320*240) Related Devices Model: 8500, 8520/Blackberry 83XX Series (320*240) Curve Devices Models: 8300, 8310, 8320, 8330 / Blackberry 87XX Series (320*240) Devices Models: 8700c, 8700r, 8700f, 8700g, 8703e, 8707, 8707g, 8707v .etc /Blackberry 88XX Series (320*240) Devices Models: 8800, 8820, 8830 .etc /Blackberry 89XX Curve Series (480*360): 8900(Javelin), 8910(Atlas)/Blackberry 90XX Bold (Onyx) Series (480*320) Devices Models: 9000, 9020(Onyx)/Blackberry 96XX Tour (Niagara) Series (480*360):9600, 9630, 9650(Tour2), 9700(Bold) /Blackberry 95XX Storm Series (360*480):9500, 9510, 9520, 9530, 9550(Storm2)
Description:
FREE 7-day fully functional trial install. Purchase it after you love it!
If you use your BlackBerry for SMS text messages, this app is for you!
Designed to enhance the BlackBerry's native SMS application, the 3jam Threaded SMS and Group SMS app is *fast*. With its "no-handed" operation, the app minimizes the number of clicks and scrolls needed to read and send messages.
With automatic popups of new messages, automatically scrolling message threads and replies always one click or Enter key away, you'll wonder how you did without this application in the past.
Additional features include:
* Organization of messages into threads sorted by recipient
* Unlimited archiving of conversation messages
* Exporting of conversation threads via e-mail
* Easily create groups for mass texting
* Reply-all group texting (for U.S. users only)
* Instant Messaging (IM) views
Give it a shot and see what you've been missing every time you send an SMS message!
NOTE: To use this as the standalone SMS client, simply set your left or right convenience key to be the 3jam app, and stop regular SMS's from your Inbox: From your Blackberry main screen, select Options, Security Options, Firewall, Block SMS. You can also customize the SMS alert in your sound profile!