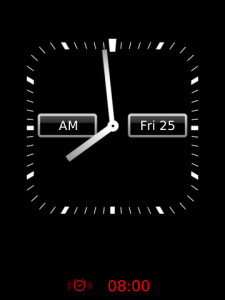 Tag:
torch2 apps
MiniClock
Overview :
MiniClock v1.0.0 for torch2 apps
Model:
Blackberry 95XX Storm Series (360*480):9500, 9510, 9520, 9530, 9550(Storm2), 9570(Storm3), 9800(Torch), Torch2
Description:
System clock ON once screen locked or backlight off.
So you can have a look at clock/time easily at every return to live homescreen. You can catch your alarm info at the same time. Sweet! Insnt it?!
PROMOTION: FREE for a limited time. In this period your request to full version will be accepted in 100%.
Guarantee satisfaction:
If you find a bug or have a feedback, kindly write email to us, we can provide revision ASAP. Be so kind that don't leave a malicious comment.