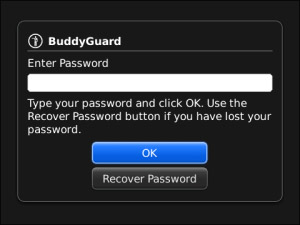 Tag:
BuddyGuard
Overview :
BuddyGuard for blackberry 89,90,96,97 apps
Model:
Blackberry 89XX Curve Series (480*360): 8900(Javelin), 8910(Atlas)/Blackberry 90XX Bold (Onyx) Series (480*320) Devices Models: 9000, 9020(Onyx)/Blackberry 95XX Storm Series (360*480): 9500, 9510, 9520, 9530, 9550(Storm2)/Blackberry 96XX Tour (Niagara) Series (480*360): 9600, 9630 Niagara, 9700
Description:
Protect your BlackBerry® and your personal data!
** This is a free Beta release, with more functionality coming!
Ever lost, misplaced or had your BlackBerry® stolen? Ever considered what personal information is easily accessible to anyone who happens to pick up your phone?
Now you can protect yourself and your data with BuddyGuard, the new application for securing your BlackBerry®.
BuddyGuard allows you to remotely access and control your BlackBerry® using commands sent by SMS or email messages. With BuddyGuard you can lock your BlackBerry®, retrieve its GPS location or play a tone to help find a misplaced device, or even wipe your personal data if your phone is unrecoverable.
Key Features:
* ALERT: Assists in finding a misplaced phone by playing a tone, even if the phone is in silent or vibrate-only mode. Secures your phone by locking it and displaying your contact information.
* LOCK: Prevents unauthorized access by locking your phone and displaying your contact information. Will stay locked until you enter your password, even if your BlackBerry® is rebooted! Protects your data without deleting it.
* LOCATE: Uses the BlackBerry®'s GPS and sends you a link to the mapped location of your device.
* LIST: Emails you a listing of the data on your BlackBerry®. Allows you to test and verify what a Wipe will do without actually deleting your data.
* WIPE: Remotely wipes your personal data from your BlackBerry® to prevent unauthorized persons from accessing it. Removes Calendar, Contacts, Emails, Phone Logs, Memos, Tasks and Files on your SD Card and in Device Memory.
* HELP: Remotely receive a listing of the available commands. Useful when you've forgotten the set of supported commands.
** NOTE ** For a detailed description of the supported commands and how to use BuddyGuard, visit http://www.terramobility.com/m/bg/help/.
BuddyGuard supports all trackball, trackpad and touch screen BlackBerry® smartphones running OS 4.2.1 and higher.