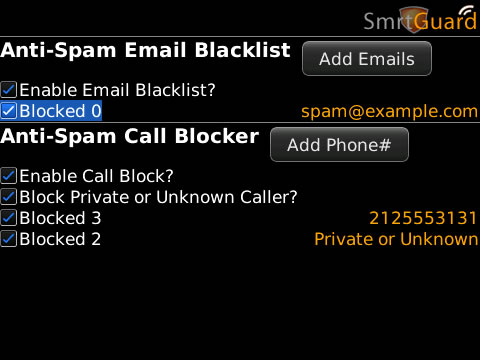 Tag:
SmrtGuard
Overview :
SmrtGuard - Free V2.24 (os4.5)
Model:
Blackberry 83XX Series (320*240) Curve Devices Models: 8300, 8310, 8320, 8330 / Blackberry 87XX Series (320*240) Devices Models: 8700c, 8700r, 8700f, 8700g, 8703e, 8707, 8707g, 8707v .etc /Blackberry 88XX Series (320*240) Devices Models: 8800, 8820, 8830 .etc
Description:
SmrtGuard-Free: Your Smartphone Guardian
With SmrtGuard-Free, you get our device protection package - remote tracking, remote wiping, personal guardian, and simcard guardian ALL for FREE! Get your piece of mind and download NOW!
You also get our SmrtGuard-Pro free for 30 days, you get to have our data protection package, which will enable you to backup and restore your data.
With SmrtGuard You Can:
Real Time LowJack of your BlackBerry® with the companion website at SmrtGuard.com
You can remote track your BlackBerry® and even have a loved one track your device!
Remote Wipe wipes out PIM data and uninstalls Phone app, Facebook, Password Keeper, Message Application
Wireless Backup of Your Contacts including contact pictures , SMS, Emails, PIN Messages, Calendar, ToDos, Memo, Call Log
Wireless Restore data onto new or replacement smartphone
Companion website allows you to export your data into excel, csv file
Free Life Time Upgrades
Much more!