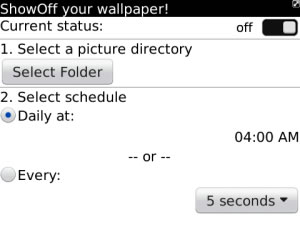 Tag:
ShowOff
Overview :
free ShowOff v1.0.0 for blackberry apps download
Model:
Blackberry 81XX Series (240*260) Pearl Devices Models: 8100, 8110, 8120, 8130/Blackberry 82XX Series (240*320) Pearl Flip Devices Models: 8200, 8220, 8230/Blackberry 8350i (320*240) Related Devices Model: 8500, 8520, 8530, 9300(Kepler), 9330/Blackberry 83XX Series (320*240) Curve Devices Models: 8300, 8310, 8320, 8330 / Blackberry 87XX Series (320*240) Devices Models: 8700c, 8700r, 8700f, 8700g, 8703e, 8707, 8707g, 8707v .etc /Blackberry 88XX Series (320*240) Devices Models: 8800, 8820, 8830 .etc /Blackberry 89XX Curve Series (480*360): 8900(Javelin), 8910(Atlas), 8930, 8950, 8980/Blackberry 90XX Bold (Onyx) Series (480*320) Devices Models: 9000, 9020(Onyx)/Blackberry 96XX Tour (Niagara) Series (480*360):9600, 9630, 9650(Tour2), 9700(Bold2), 9780, Dakota, Apollo /Blackberry 95XX Storm Series (360*480):9500, 9510, 9520, 9530, 9550(Storm2), 9570(Storm3), 9800(Torch), Torch2/Blackberry Pearl 3G Series (360*400) Devices Models: 9100, 9105, 9670(Style)
Description:
ShowOff your wallpaper collections to yourself!
ShowOff is an app that automatically changes your BlackBerry's wallpaper for different time intervals of the day. Customizable according to individual preference, ShowOff will allow you to modify your device's auto-change settings from every 5 SECONDS to every WEEK!
ShowOff's functionality is straightforward and it's user friendly design makes it easy for anyone to use: simply choose the folder in which your wallpaper collection currently exists, close the app, and let ShowOff do the work for you!
Please contact support@qbotron.com with any questions or concerns.