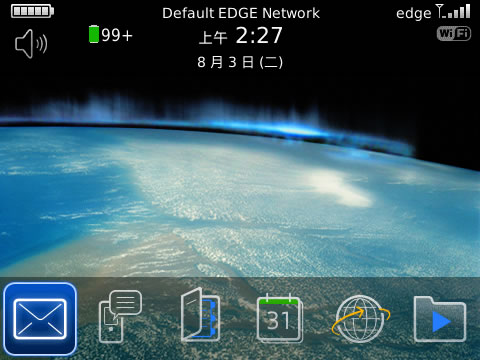 Tag:
SmartBIndie
Overview :
free SmartBIndie apps for blackberry
Description:
Do you wonder how much battery is left? Do you have troubles reading the tiny battery bars?
SmartBIndie is the simple solution of all your issues! Constantly visible indicator in HomeScreen notification area will provide accurate information about the battery level.
Note: When battery is fully charged, SmartBIndie will show "99+" value instead of "100"
Features:
* Easy to use
* Accurate information about battery level (in %)
* Autostart on device reboot
* Three different indicators depending on the battery status
** green (battery status more than 80%)
** yellow (battery status between 20% and 80%)
** red (battery status less than 20%)
* Visible even when browsing
* Only 16 KB size

Minimum Requirements:
•BlackBerry OS 4.6
Display Dimensions
160x160, 240x160, 240x240, 240x260, 240x320, 320x240, 360x400, 360x480, 480x320, 480x360
Operating System
4.6, 4.7 Non-Touch, 4.7 Touch Screen, 5.0 Non-Touch, 5.0 Touch Screen, 6.0 Non-Touch, 6.0 Touch Screen
Model:
Blackberry 82XX Series (240x320) Pearl Flip Devices Models: 8200, 8220, 8230/Blackberry 8350i (320*240) Related Devices Model: 8500, 8520, 8530, 9300(Kepler)/Blackberry 89XX Curve Series (480*360): 8900(Javelin), 8910(Atlas), 8950, 8980/Blackberry 90XX Bold (Onyx) Series (480*320) Devices Models: 9000, 9020(Onyx)/Blackberry 96XX Tour (Niagara) Series (480*360):9600, 9630, 9650(Tour2), 9670, 9700(Bold2), 9780 /Blackberry 95XX Storm Series (360*480):9500, 9510, 9520, 9530, 9550(Storm2), 9800/Blackberry Pearl 3G Series (360*400) Devices Models: 9100, 9105