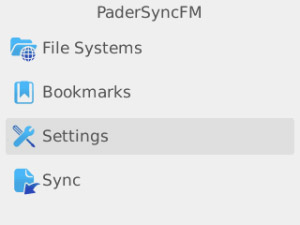 Tag:
PaderSyncFM
Overview :
free blackberry apps : PaderSyncFM apps for blackberry
PaderSyncFM is an all-in-one File Manager Application for BlackBerry devices. It contains an FTP, SFTP (SSH), SMB and WebDAV client. Use it to get the latest files from the file server at your office, or access shared folders on your home computer.
Transfer files between your mobile device and the most commonly used file servers. Use bookmarks to conveniently connect to your favourite file systems. The integrated one-way file synchronization allows for easy updates of large folder structures.
Access FTP, SFTP, SMB and WebDAV servers.
Use HTTP, HTTPS, SOCKS proxy servers.
Synchronize folders.
Use SSH gate servers.
Model:
Blackberry 71XX Series (240*260) Devices Models: 7100, 7110t, 7105t, 7100r, 7100v, 7100g, 7100x, 7100i, 7130e, 7130c, 7130g, 7130v/Blackberry 81XX Series (240*260) Pearl Devices Models: 8100, 8110, 8120, 8130/Blackberry 82XX Series (240*320) Pearl Flip Devices Models: 8200, 8220, 8230/Blackberry 8350i (320*240) Related Devices Model: 8500, 8520, 8530, 9300(Kepler), 9330/Blackberry 83XX Series (320*240) Curve Devices Models: 8300, 8310, 8320, 8330 / Blackberry 87XX Series (320*240) Devices Models: 8700c, 8700r, 8700f, 8700g, 8703e, 8707, 8707g, 8707v .etc /Blackberry 88XX Series (320*240) Devices Models: 8800, 8820, 8830 .etc /Blackberry 89XX Curve Series (480*360): 8900(Javelin), 8910(Atlas), 8930, 8950, 8980/Blackberry 90XX Bold (Onyx) Series (480*320) Devices Models: 9000, 9020(Onyx)/Blackberry 96XX Tour (Niagara) Series (480*360):9600, 9630, 9650(Tour2), 9700(Bold2), 9780 /Blackberry 95XX Storm Series (360*480):9500, 9510, 9520, 9530, 9550(Storm2), 9570(Storm3), 9800(Torch)/Blackberry Pearl 3G Series (360*400) Devices Models: 9100, 9105, 9670(Style)