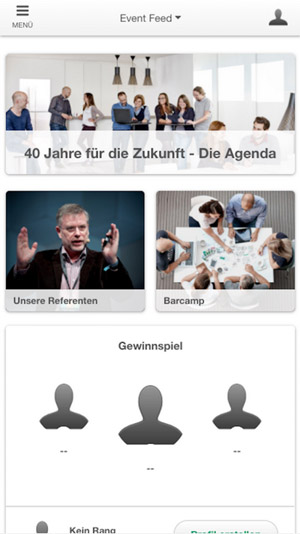 Tag:
VEDA wird 40
Overview :
VEDA wird 40 v1.0 for blackberry apps
VEDA's Turning 40" App is your companion at VEDA's Knowledge Party and wants to provide you with new and exciting facts on "Digitalization and Worklife".
In the app you'll find our event agenda as well as information on the venue and our Keynote Speakers.
Get detailed information about the activities on both days of the event, 21st and 22nd September.
Moreover, you can influence the content! You can participate in the forming of the Barcamp Agenda (September 21) by proposing topics via the app or simply voting on existing proposals for Barcamp sessions.
At our VEDA Knowledge Party do take part in live discussions via the "Collaboration"-Function in the app and have a chat with other participants.
Register, vote, play, and win – do all of this straight from your smartphone.
Supported Devices:
BlackBerry Classic
BlackBerry Leap
BlackBerry Passport
BlackBerry Passport Silver Edition
BlackBerry Q10
BlackBerry Q5
BlackBerry Z10
BlackBerry Z3
BlackBerry Z30
Porsche Design P9982
Porsche Design P9983