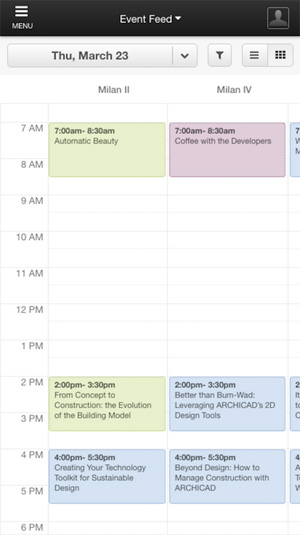 Tag:
BIMCON
Overview :
BIMCON V1.0.0.1 FOR blackberry apps

2017 GRAPHISOFT BIM Conference: March 22nd – 24th in Las Vegas
Join hundreds of ARCHICAD users at the 2017 BIM Conference, where there's something for everyone! Whether you're a new ARCHICAD user or a seasoned veteran, the GRAPHISOFT North America User Conference provides a concise, powerful BIM software learning experience.
Learn: Participate in a line-up of 30+ courses and keynotes to learn about industry trends and new and exciting ways of using ARCHICAD.
Earn AIA CES Credits: Get a leg up on the AIA CES credit requirements for 2017. Earn up to 15 AIA learning units over the course of two days – including several LU/HSW qualified sessions.
Inspiring Speakers: We heard you loud and clear! About half of our courses are being taught by your peer ARCHICAD Power Users. And we have some impressive keynote speakers we'll announce later!
Friends, Food, Fun: There's more to the BIM Conference than just great content—it's also fun! We know that one of your favorite parts of the Conference is getting to network with fellow ARCHICAD users that are as passionate about the technology as you are.
"All of our staff are using ARCHICAD for design & production work. The Conference is a great opportunity to not only beef up our skills, but get inspired by fellow users."
~ Veronica Schreibeis, Principal, Vera Iconica Architecture
Supported Devices:
BlackBerry Classic
BlackBerry Leap
BlackBerry Passport
BlackBerry Passport Silver Edition
BlackBerry Q10
BlackBerry Q5
BlackBerry Z10
BlackBerry Z3
BlackBerry Z30
Porsche Design P9982
Porsche Design P9983