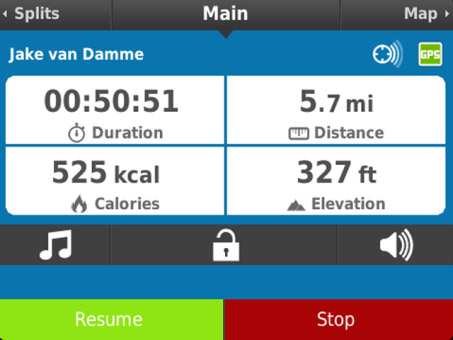 Tag:
Runtastic
Overview :
runtastic PRO 3.3 FOR your blackberry phone
runtastic PRO is your personal sports and fitness application! Whether you like to run, bike, skate, hike or ski – with runtastic PRO you can map your activities, get motivated, burn calories and achieve better results. Using the built-in GPS, runtastic PRO turns your BlackBerry into a multifunctional GPS fitness assistant with a lot of features.
runtastic PRO features:
✔ Track activities via GPS: automatically records time, distance, calories burned, speed, elevation and more!
✔ View your current position and route on map (BlackBerry Maps)
✔ Split table and graphs to analyze your Pace, Elevation, Speed and Heart Rate throughout an activity
✔ Heart rate integration: compatible with Polar Wearlink+ Bluetooth, Zephyr HxM and the new runtastic heart rate monitor
✔ View your Activity History with lots of useful information at first sight
✔ Voice Feedback: Let voices in English, German, Spanish, French and Italian inform you of distance, time, pace and other useful information during an activity
✔ LIVE Tracking: Real time tracking of your position; let your family and friends see where you are and how you are performing
✔ Cheering: Now your friends can cheer you up and motivate you during a Live Tracking activity using www.runtastic.com or social networks
✔ Connect runtastic PRO to BBM and keep your contacts informed about your sports activities
✔ Social network sharing: Post your activities on Facebook, Twitter and on the runtastic fitness portal
✔ Configurable dashboard: determine what information you want to see during an activity
✔ Music Player: Listen to your favourite music (only Standard Playlists)
✔ Need some time to pocket your BlackBerry before starting a run? Just set the appropriate countdown and the app will start (and lock the screen) automatically for you
✔ Accurate elevation calculation
You can upload your sports activities to the runtastic fitness portal www.runtastic.com. Besides numerous detailed statistics about your activities, it also provides you with a perfect overview of your performance and the chance to connect with friends and other athletes.
Are you running to keep fit and healthy? Are you practicing any sport to burn fat? Are you training for a marathon? Training will never be the same once you experienced runtastic PRO! This amazing app will fulfill all of your coaching needs and help you keeping track of your sports activities and progress.
Download runtastic PRO now and make your sport funtastic!
If you have more questions or comments about runtastic, please contact us: support.blackberry@runtastic.com
NOTE: You have to uninstall the free runtastic app before you are able to run runtastic PRO. Please be sure that you have transmitted all your activities to the online portal http://runtastic.com before you uninstall the free version because they are not automatically transferred to the PRO version.
NOTE regarding VERIZON: Because of GPS issues, the application is currently not compatible with 8X30 phones running on Verizon.