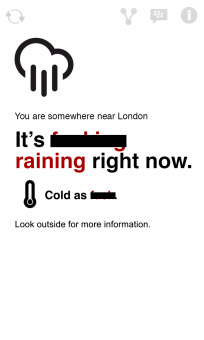 Tag:
Weather
Overview :
The Last Weather App v1.0.0.113 for blackberry 10 apps
File Size: 386 KB
Required Device Software Operating System: 10.0.0 or higher

Description:
This app tells you exactly what you's;d see if you were to look outside. Very useful if you can's;t be bothered to look for yourself. Tell your BBM friends about the crappy weather you's;re experiencing. Share your misery on Facebook, Twitter and other social networks. Really, this is the one and only weather app you's;ll ever need. And the best part? It's;s absolutely free. WARNING: Contains offensive language.