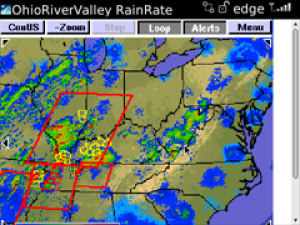 Tag:
Storm Watch
Overview :
The worst storm Sandy landing in New Jersey , hope the following software is useful for you: Storm Watch 3.0
US$7.99
File Size: 17 KB
Required Device Software:
Smartphone: 4.6.1 or higher
model: 8220, 8330, 8350, 8520, 8900, 8980, 9000, 9100, 9105, 9300, 9330, 9630, 9650, 9700, 9780, 9788, 9800, 9810, 9850, 9860, 9900, 9930

Description:
STORM WATCH provides up-to-date severe and adverse weather data and imagery formatted for smart phones via our server (www.tsgapps.com) without any monthly fee. There is only a one time initial charge for a small client app used to access the data.STORM WATCH provides graphical displays and text based information on your BlackBerry® covering current and forecast adverse weather conditions for the continental United States. Convective watches and warnings from the Storm Prediction Center in Norman, Oklahoma, Tropical Storm/Hurricane watches & warnings from the National Hurricane center in Miami, plus all Watches, Warnings, Advisories and Special Weather Statements, including Tsunami warnings, are available. All information is available by clicking on Icons and/or drilling down into the Maps, Charts and Radar displays.
STORM WATCH allows you to observe adverse weather events nationwide and track them in near real time. Plus, you can see what's coming up over the next few days by using the forecasts developed by SPC, NHC and the local WFOs.
In addition, NOAA meteorologists comment on trends via the WFO Forecaster Discussion page, SPC Meso Discussion page and WFO HWO (Hazardous Weather Outlook) page. And there's a graphical forecast function - obtained from NOAA's National Digital Database - which shows all types of forecast Adverse Weather. It's presented in 12 hour segments from the present day out 4 days into the future.
Finally, there is a Storm Chaser page that contains the standard suite of tools used by convective weather meteorologists and by those who go looking for Tornadoes as a hobby. These include Theta-E, CAPE, Lifted Index, Heliocity, Surface Temp, Dew Point. and Sea Level Press., Wind Speed, Direction, Temp and RH at 5K, 10K and 18K feet plus Vis, IR and WV Sat Imagery.
The graphics and text based forecasts and warnings are obtained from NOAA, directly from their servers, so the information is up-to-date and official. A detailed FAQ page instructs you how to get the most from the application and should be read prior to first use. Additional support via email is only a click away from inside the application.
NOTES - Please read:
(1) STORM WATCH does NOT generate automatic warnings for specific cities or towns, nor can you store your location. If you need automated warnings, you should purchase a SAME enabled weather radio and program it for your home county. (You can however easily and quickly manually access all convective based warnings and watches that have been issued for any location in the lower 48 via the warning map.)
(2) STORM WATCH displays information obtained from free internet weather sites in order to avoid having to charge you a monthly access fee.