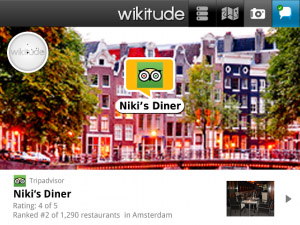 Tag:
TripAdvisor
Overview :
TripAdvisor in Augmented Reality v1.0 for blackberry apps
Required Device Software:
Smartphone: 7.0.0 or higher

Description:
If you don't already have Wikitude on your device, please download from AppWorld and install it first before downloading TripAdvisor Augmented Reality.
Find the best places to eat, stay, and play when you're on the go - just by holding up your smartphone. TripAdvisor in Augmented Reality works with your phone's camera to show you ratings and reviews for restaurants, hotels, and attractions in your immediate area. With over 60 million traveler reviews and opinions for destinations around the world, it's easy to find great advice wherever you happen to be.
Important:
Please make sure that Wikitude and TripAdvisor in Augmented Reality both have the app permission 'Browser Filtering' set to 'Allow' in order for the applications to work as expected.

Try it, you won't regret it!