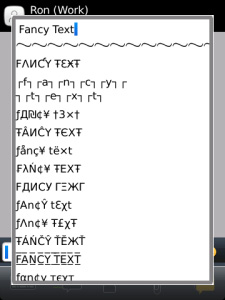 Tag:
Fancy Text
Overview :
Fancy Text v1.5.0 for free blackberry apps download
size: 135 KB
model: Pearl 9100 3G, Pearl 9105 3G, Curve 8520, Curve 8530, Curve 8900, Curve 8910, Curve 8980, Bold 9000, Curve 9300 3G, Curve 9330 3G, Tour 9630, Bold 9650, Style 9670, Bold 9700, Bold 9780, Bold 9788, Curve 9220, Curve 9350, Curve 9360, Curve 9370, Storm 9500/9530, Storm2 9550/9520, Torch 9850/9860, Torch 9800, Curve 9380, Bold 9790, Torch 2 9810, Bold 9900/9930, 9981
Description:
Get Fancy Text on your phone and flaunt your stylish texting habit and feed your zeal to impress people!!!
Are you bored of typing same monotonous text messages again and again, want to try something new?? Hey stop….do not scratch your head, here comes our innovative and stylish "Fancy Text".
While typing a text message, chatting over the BBM or even while typing the mail, just press the menu button, select Fancy Text and type your text differently.
Try it once, we are damn sure you would love it!!
Features:
•Works with all – Email, SMS and BBM
•Various styles of texts available
•Easy to use