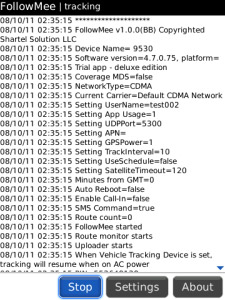 Tag:
GPS
FollowMee
Overview :
FollowMee GPS Tracker v1.5.4 for blackberry apps download
OS 4.5,4.6,4.7,5.0,6.0,7.0
size: 153 KB
model: Pearl 8100, Pearl 8110, Pearl 8120, Pearl 8130, Pearl Flip 8220, Pearl Flip 8230, Pearl 9100 3G, Pearl 9105 3G, Curve 8300, Curve 8310, Curve 8320, Curve 8330, Curve 8350i, Curve 8520, Curve 8530, 8700, 8707, 8800, 8820, 8830, Curve 8900, Curve 8910, Curve 8980, Bold 9000, Curve 9300 3G, Curve 9330 3G, Tour 9630, Bold 9650, Style 9670, Bold 9700, Bold 9780, Bold 9788, Curve 9220, Curve 9350, Curve 9360, Curve 9370, Storm 9500/9530, Storm2 9550/9520, Torch 9850/9860, Torch 9800, Curve 9380, Bold 9790, Torch 2 9810, Bold 9900/9930, 9981
Description:
FollowMee GPS Tracker tracks location of a BlackBerry smartphone. After installed and started, it quietly records its GPS locations periodically and uploads to a secured server. The app runs in the background and it does not require any user interaction. You can login to our web site (http://www.FollowMee.com) to monitor current and past locations. You can share your current location or past tracks by emailing people your location URL, or embed it on your own web site.

FEATURES:
* Free Tracking - Free online current location tracking.
* Configurable - Setting screen is available for customize configuration.
* Stealth Mode - Once enabled, the app has no UI (user interface) or icon.
* Remote Command - You can command the tracker app with a SMS message.
* Network Location - When GPS location is not available, network location is obtained instead.
* Support for Wifi Only Tracker - Cellular service is not required to run the app. The app can be run in a Wifi enabled phone.
* Always On - Once the tracker starts, it will continue to run, even after the phone reboots.
* Opt-in Sharing - Generate a URL to link to your current location. Publish your location by emailing people the URL or embed it in your own web site.
* Multiple Mobile Platforms - Other mobile platforms are available in our web site.

USE CASE:
* Track or spy whereabouts of your family members, friends, or employees
* Install to your BlackBerry to enable your people to track yourself
* Track your company owned BlackBerry
* Track you vehicle
* Track your running, hiking, or biking
* Track your lost BlackBerry
* Track anything that you can put a BlackBerry in

ONLINE TRACKING:
To monitor locations, just go to http://www.FollowMee.com

REQUIREMENTS:
* Blackberry OS version 4.5 or higher
* Built-in GPS

DEVICES NOT WORKING:
* 8830(Verizon), 8330(Verizon) - Verizon locks out the GPS for these models

VERSION COMPARISON:
Deluxe Standard Free
tracking interval (minutes) 1-999 1-999 at least 30
tracking schedule x x x
SMS command x x x
stealth mode x x x
vehichle tracking device x na na
auto device reboot x na na
remote listening x na na
monitor current location x x x
monitor past location x x na
share current location x x x
share past location x x na
network location x x x
wifi only tracker x x x