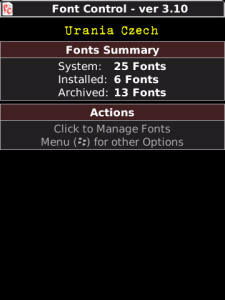 Tag:
9900 apps
9981 apps
Control
Font
Overview :
Font Control v3.81.108 ( os6.0, 7.0 ) for blackberry apps
size: 243 KB
model: Pearl 9100 3G, Pearl 9105 3G, Curve 9300 3G, Curve 9330 3G, Bold 9650, Style 9670, Bold 9700, Bold 9780, Bold 9788, Curve 9350, Curve 9360, Curve 9370, Torch 9850/9860, Torch 9800, Curve 9380, Bold 9790, Torch 2 9810, Bold 9900/9930, 9981
Description:
*** If you like this app, please post a positive review ! ***
** Over 400 one-click Font Installers available via "Get More Fonts" menu ! **

Make your BlackBerry UNIQUE using the MOST POPULAR Fonts Manager application !
Want to break the monotony of the standard BlackBerry fonts ? Need to make your phone prettier ?
Font Control allows you to use any of the THOUSANDS FREE TTF FONTS available on the web to customize your lovely BlackBerry.
Features:
* Over 400 one-click Font Installers available via "Get More Fonts" menu
* Preview of all installed fonts, display complete font details including the font vendor home page (where you can find more pretty fonts)
* Install new fonts manually or from the web
* Uninstall the fonts which you no longer need to keep your device running better (do not worry, they will be archived)
* Full control over the System Font (which is used from all apps installed on your BlackBerry)
* Select one of the 10 different styles
* Select size from 3pt to 20 pt
* Select one of the four possible effects
* Control the antialias mode
* Browse and install fonts directly from .zip file
* Font configuration (including the selected system font) is kept after device reboot !
* Full archive of all fonts which you have installed in the past - never lose a font again !
* Ability to restore fonts from archive
* Extremely low CPU overhead
* User friendly interface
* Best of all - this app is ABSOLUTELY FREE
If you like the blackberry apps, Please share to your friends!