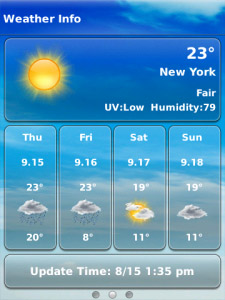 Tag:
MMMOOO
9900 apps
Weather
Overview :
Weather Plus v3.1.7 for os5.0-7.0 apps(Best Free Weather Apps)
OS 5.0, 6.0, 7.0
size: 3.54 MB
model: Pearl 9100 3G, Pearl 9105 3G, Curve 8520, Curve 8530, Curve 8900, Curve 8910, Curve 8980, Bold 9000, Curve 9300 3G, Curve 9330 3G, Tour 9630, Bold 9650, Style 9670, Bold 9700, Bold 9780, Bold 9788, Curve 9350, Curve 9360, Curve 9370, Storm 9500/9530, Storm2 9550/9520, Torch 9850/9860, Torch 9800, Curve 9380, Bold 9790, Torch 2 9810, Bold 9900/9930, 9981
Description:
Weather Plus will offer the accurate weather forecast and enable you to push weather info to home screen, and it is Free without Ads!
★★Very Important Tips:
1. Please delete the previous version completely, and then install this upgrade.
2. When going to search city, we strongly suggest you to input the exactly city name + county name and then search (e.g. "Cambridge,UK"; "New York,USA")
PROMOTION:
FREE for a limited time, Write us an email to unlock it, INCLUDE YOUR PIN and Weather Plus in tittle.
We welcome your encouraging comments to help us improve this GREAT app.
Change log in V3.1.6:
1. Fixed the N/A display;
2. Fixed the bug of weather upgrade;
Weather Plus is ***The Regional Selections Winners of 2010 BlackBerry Super Apps Challenge***, the Creator & Founder of Push weather info to home screen, with more polished icon, deluxe home screen badge and inner Pages Layout, steady & smooth connection with accurate weather forecast, and the ★★Worldwide Initiative★★ DIY home screen display mode!!
Features:
1. The founder of 'Push weather to home screen';
2. The founder of 'DIY home screen display mode';
3. The creator of 'Voice Forecast';
4. Accurate weather info ;
5. Multi cities support;
6. Auto updates weather info;
7. Support icon display;
8. Search city by ZIP (US only);
9. Friendly UI design;
10. Life time free update.
Tips:
If you want to select system sample pictures as wallpaper, please go to your picture folder found out the picture and open, then press BlackBerry key, in the pop-up, select 'Set as Weather Plus wallpaper'.
Guarantee satisfaction:
If you find a bug or have a feedback, kindly write email to us, we can assist you well or provide revision asap, and a bonus free theme as well. Be so kind that don't leave a malicious comment at the reviews, because we could not reply App World Reviews.
If you like the app, Please share to your friends!