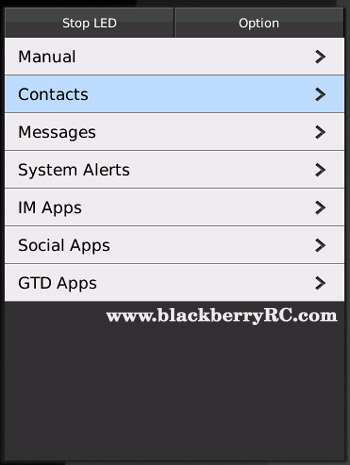 Tag:
LED
Blink
viky​soft​
Overview :
Blink v7.21 - Customize Your LED Alert
OS 4.5,4.6,4.7,5.0,6.0,7.0
Model: Pearl 8100, Pearl 8110, Pearl 8120, Pearl 8130, Pearl Flip 8220, Pearl Flip 8230, Pearl 9100 3G, Pearl 9105 3G, Curve 8300, Curve 8310, Curve 8320, Curve 8330, Curve 8350i, Curve 8520, Curve 8530, 8700, 8707, 8800, 8820, 8830, Curve 8900, Curve 8910, Curve 8980, Bold 9000, Curve 9300 3G, Curve 9330 3G, Tour 9630, Bold 9650, Style 9670, Bold 9700, Bold 9780, Bold 9788, Curve 9350, Curve 9360, Curve 9370, Storm 9500/9530, Storm2 9550/9520, Torch 9850/9860, Torch 9800, Torch 2 9810, Bold 9900/9930
Description:
With Blink, you can easily change your LED lights as you want.
* for 30+ alerts you can customize. (check the list below)
* with 10+ vivid colors, including Disco and Circle.
* with 3 brightness levels
* with 10+ different speeds, including Heartbeat, Pulse, Thunder and Flight.
* Multi-Alerts system, shine alternate colors for multiple alerts.
* Backup your options to SD card for easy transfer and recovery.
What people say:
1. I bought this app and absolutely love it, so many colours to choose from, had it for months now. wouldn't get rid of it! 2. The best app out there to make your phone stand out from all the BlackBerry around. Forget the boring RED only led for every notification. Let's have a really colorful phone! Suggestion: allow users to customize the exact colors and order for each separate blink. 3. This is such a great app. I have the Beatles colorful theme on my phone and together with tthis app looks like the coolest phone I've ever had!!! Loove it!! Plis get it! ;)
Download now and start your 7 days free trial!
(A valid data network is required for activation)
Supported alerts list
- BlackBerry Messenger (BBM) and BBM Groups alerts.
- Contacts, set special colors for their Call, Email and SMS.
- Multiple Email accounts, set each one with a unique color.
- Manual mode, shine your phone whenever you want.
- System Alerts: SMS, Email, Gmail, Incoming Call, Call Connected, Missed Call, Signal Lost, Battery Low/Full, Memory Low.
- IM Apps Alerts : BBM, BBM Groups, Gtalk, Facebook Messenger, MSN, Yahoo, AIM, Whatsapp, Trillian, Beejive, PingChat, IM+ ,IM+ talk, LiveProfile, Nimbuzz, Chat for Facebook, GroupMe, AOL.
- Social Apps ALerts: FaceBook, Twitter, News Feeds, Social Feeds, UberSocial, SocialScope and more, ScoreMobile.
- GTD Apps Alerts: Calendar, Task, AlarmPro, Pocket Info, Follow UP Flag.
Want more alerts? Have any problems? Just tell us!
Options
* Blink Duration: set a duration for an alert to save more battery life.
* Advanced: set a on and off time for advanced frequency setting.
* Bedside Mode:stop Blink when you go to sleep.
* Memory Line: set a line for low memory alert.
* Stop blinking: stop blinking with Touching any key or After reading.
Tips
* if you see unexpected blinking, Reset LED can stop them.
* If you want to get alerts in Bedside mode, Enable LED in Clock in Bedside option.
* if you want to use the LED Coverage indicator in Blink, turn off system's in your phone's Option.
Download now and start your 7 days free trial!