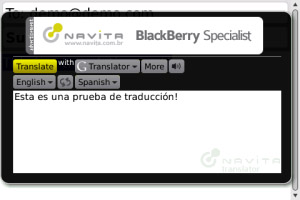 Tag:
Translator
Navita
Overview :
Translate-and-Speak words, phrases from e-mails, Browser, SMS or typing in the software.
Navita Translator translates more than 50 languages and is capable to speak languages like English, Portuguese, Spanish, Italian, French, German and Russian.
IMPORTANT: this app has NO "run" button on appword. After install, the app icon will be on your device Home Screen or your device Downloads folder
Other Features:
- send your translations to: Twitter, Mail, SMS, PIN, MEMO
- supports English, Portuguese, Spanish and Chinese interfaces.
- free support
- Compatible with all devices
- Dictionary mode (temporarily disabled)
You can request a ad-free key at: www.bbtranslator.com
If you enjoy Navita Translator, please Review with 5 stars.
Become a Navita Translator follower at Twitter @NavitaSoftware.
Visit our Forum for support issues - http://www.navitasoftware.com/forumbb.