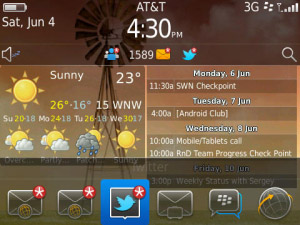 Tag:
Fancy
Widgets
Overview :
Fancy Widgets 1.2.11 - blackberry applications
Required Device Software
5.0.0 or higher
Description
Customize your BlackBerry® in a new way!
Add Fancy Widgets to your BlackBerry® Home Screen!
Choose from Weather, World Time, Calendar, Quotes, Notes and others... Thee list of widgets is constantly growing..
Includes Wallpaper Changer and Weather forecast.
TRIAL version works for FREE without days limitation! You can place 2 widgets on screen for free and use as long as you wish. No 30 days limit as appworld days.
If you get widgets on a black screen - place the Wallpaper widget to the list and choose picture.
Please watch this video for initial app setup http://www.youtube.com/watch?v=z99aSASLqS4
Contact support if you have any issue. Every request will be resolved.