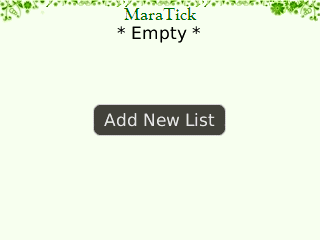 Tag:
9600 apps
Mara
Tick
Overview :
Mara Tick applications for blackberry
Model:
Blackberry 82XX Series (240x320) Pearl Flip Devices Models: 8200, 8220, 8230/Blackberry 8350i (320*240) Related Devices Model: 8500, 8520/Blackberry 83XX Series (320*240) Curve Devices Models: 8300, 8310, 8320, 8330 / Blackberry 87XX Series (320*240) Devices Models: 8700c, 8700r, 8700f, 8700g, 8703e, 8707, 8707g, 8707v .etc /Blackberry 88XX Series (320*240) Devices Models: 8800, 8820, 8830 .etc /Blackberry 89XX Curve Series (480*360): 8900(Javelin), 8910(Atlas)/Blackberry 90XX Bold (Onyx) Series (480*320) Devices Models: 9000, 9020(Onyx)/Blackberry 96XX Tour (Niagara) Series (480*360):9600, 9630, 9650(Tour2), 9700(Bold)
Description:
Mara Tick is a simple free list manager. You can create your own set of list for anything you want. Creating a new list is so easy you just enter a name or description of your list and it will ask you set a deadline on when you should complete the list. If you set a completion date Mara Tick will even display a reminder in your Blackberry's calendar on when it's due.
The main screen is very neat it will show you all the names of the list you've created and a leaf icon which represents the progress bar. Entering a new item inside your list is very easy, with the built it vocabulary you only have to enter a few letters and it will finished it for you.