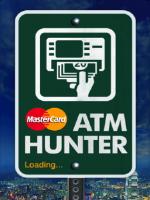 Tag:
Hunter
ATM
MasterCard
Overview :
ATM Hunter App For MasterCard
Model:
Blackberry 81XX Series (240*260) Pearl Devices Models: 8100, 8110, 8120, 8130/Blackberry 82XX Series (240x320) Pearl Flip Devices Models: 8200, 8220, 8230/Blackberry 8350i (320*240) Related Devices Model: 8500, 8520/Blackberry 83XX Series (320*240) Curve Devices Models: 8300, 8310, 8320, 8330 / Blackberry 87XX Series (320*240) Devices Models: 8700c, 8700r, 8700f, 8700g, 8703e, 8707, 8707g, 8707v .etc /Blackberry 88XX Series (320*240) Devices Models: 8800, 8820, 8830 .etc /Blackberry 89XX Curve Series (480*360): 8900(Javelin), 8910(Atlas)/Blackberry 90XX Bold (Onyx) Series (480*320) Devices Models: 9000, 9020(Onyx)/Blackberry 96XX Tour (Niagara) Series (480*360):9600, 9630, 9650(Tour2), 9700(Bold) /Blackberry 95XX Storm Series (360*480):9500, 9510, 9520, 9530, 9550(Storm2)
Description:
MasterCard today released a free application in the BlackBerry App World called ATM Hunter. As the name implies, ATM Hunter "hunts" for the closest ATM locations. The app also allows you to search by ATM type. For example, you can search for ATMs that allow you to make deposits or search for your own bank's ATMs to avoid fees.
Features:
Finds ATMs based on your current location.
Find ATMs based on any address or airport location in the world.
Tells you whether an ATM is a bank ATM or an ATM in a local store, as well as exactly where it's located, i.e., at a store, gas station, etc.
Locates your own bank's ATMs when you want to make a deposit or a withdrawal.
Provides you with the distance between your chosen location and the closest ATM.
Filters your search based on the following ATM features: Drive through, 24-hr. service, wheelchair accessible, surcharge fess, and deposit sharing.
Provides you with driving directions and a map to the nearest ATM location.