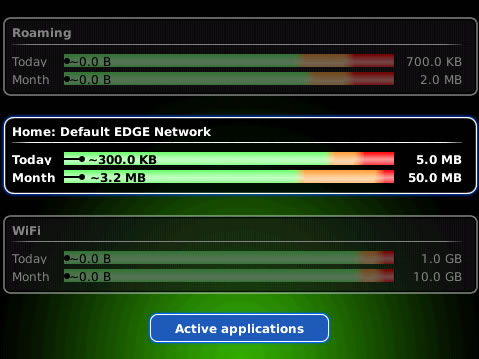 Tag:
Mobile
Data
Alerter
Overview :
Mobile Data Alerter version 4.3+ (with WiFi)
Model:
Blackberry 82XX Series (240x320) Pearl Flip Devices Models: 8200, 8220, 8230/Blackberry 8350i (320*240) Series: 8350i, 8500, 8520/ Blackberry 83XX Series (320*240) Curve Devices Models: 8300, 8310, 8320, 8330/Blackberry 87XX Series (320*240) Devices Models: 8700c, 8700r, 8700f, 8700g, 8703e, 8707, 8707g, 8707v .etc /Blackberry 88XX Series (320*240) Devices Models: 8800, 8820, 8830 .etc
Description:
Using mobile data in a foreign country can make your mobile phone bill take off like the airplane you flew with. This tool will warn you before it's too late.
Free Over the air download currently available at http://mda.e-office.com
Everyone who ever used a smartphone in a foreign country knows the unpleasant surprise when you receive the bill of your mobile service provider afterwards. Using your smartphone with a data plan abroad can be very expensive. Consuming mobile data while roaming on a foreign network can easily cost you € 2,50 up to € 25,- per megabyte! So when you think of it, downloading a presentation, browsing the internet or using online navigation can still be a good idea, as long as you and/or your colleagues are aware of the consequences.
all you can eat mindset
You or your colleagues are probably not completely aware how much data an average smartphone user consumes on a daily basis. Often you are subscribed to a comfortable 'all you can eat' data plan for usage in your home country. But an 'all you can eat' mind-set when travelling may not be that smart.
Mobile Data Alerter for BlackBerry
e-office mobile developed a standalone BlackBerry® solution that will help you and your colleagues become more aware of their day to day data consumption when travelling. A small resident application will monitor the number of data packages that is travelling to and from your BlackBerry smartphone. Based on a number of business rules the end user and/or your companies telecoms management receive notifications before significant 'financial harm' is done.
thinking with you
Mobile Data Alerter for BlackBerry monitors incoming and outgoing data packages. You can configure your daily and monthly mobile data quota you are 'allowed' to consume when roaming. The moment one of these quota is reached your BlackBerry smartphone will notify you. It will also tell you what applications are running in the background so you can easily identify and shutdown any undesired data traffic. We think with you.
comprehensive feature list
•monitors and counts incoming and outgoing data packages
•shows (roaming) network statuses
•shows real time daily and monthly data quota and consumption (shown in Kb)
•shows active applications
•several visual and audible signals are provided to alert the end-user and/or your companies telecom management
•system administrators can remote control most options with IT policies set from the BlackBerry® Enterprise Server