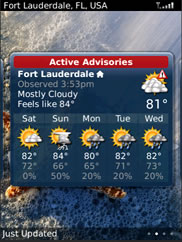 Tag:
BerryWeather
Overview :
Model:
Blackberry 81XX Series (240*260) Pearl Devices Models: 8100, 8110, 8120, 8130/Blackberry 82XX Series (240x320) Pearl Devices Models: 8200, 8220, 8230/Blackberry 8350i (320*240) Related Devices Model: 8500, 8520/Blackberry 83XX Series (320*240) Curve Devices Models: 8300, 8310, 8320, 8330 / Blackberry 87XX Series (320*240) Devices Models: 8700c, 8700r, 8700f, 8700g, 8703e, 8707, 8707g, 8707v .etc /Blackberry 88XX Series (320*240) Devices Models: 8800, 8820, 8830 .etc /Blackberry 89XX (Javelin) Curve Series (480*360): 8900/Blackberry 90XX Bold (Onyx) Series (480*320) Devices Models: 9000, 9020(Onyx)/Blackberry 95XX Storm Series (360*480):9500, 9510, 9520, 9530/Blackberry 96XX Tour (Niagara) Series (480*360):9600, 9630, 9700
Description:
BerryWeather is a visually stunning weather application for your BlackBerry smartphone.
Get instant access to current conditions plus detailed 7-day and 24-hour forecasts for over 72.000 locations worldwide. Get weather advisories and alerts for any location within the U.S.
Keep up to 10 locations at the same time and switch between them with a flick of the trackball (or on the Storm, your finger swipe!).
Update to Version 1.5.35
ANIMATED RADAR MAPS (for US Locations only, add a custom radar map for international locations)
Track your location via GPS/CELL location so you always know the weather where you are. (Cell location for GSM devices only. GPS does not work for non-Storm devices on Verizon due to carrier restrictions)
Replace the default BerryWeather radar maps for any location with your preferred weather service's radar maps!
Sunrise/Sunset times and moon phase
New Themes
Smoother animations on BlackBerry Storm
Improved battery and memory handling
Many many more bug fixes
Features:
* NO SUBSCRIPTION!
* Current conditions including "Feels like" temperature, wind, pressure, dew point, humidity.
* 7-day forecast with high/low temperature and precipitation probability
* 24-hour forecast with temperature, precipitation probability, wind and humidity
* Easily switch between 7 different views (Today, Today with Daily Forecast, Today with Hourly Forecast, Full Daily Forecast, Full Hourly Forecast, Compact Daily Forecast, Compact Hourly Forecast)
* ANIMATED RADAR MAPS (for US Locations only, add a custom radar map for international locations)
* Track your location via GPS/CELL TOWER LOCATION so you always know the weather where you are. (Cell location for GSM devices only. GPS does not work for non-Storm devices on Verizon due to carrier restrictions)
* Replace the default BerryWeather radar maps for any location with your preferred weather service's radar maps!
* Sunrise/Sunset times and moon phase
* Weather advisory notifications, SUPPORT FOR CUSTOM LED COLORS VIA BERRYBUZZ
* Customizable homescreen icon with fully customizable temperature and weather advisory badge
* Support for different themes (Widgets, Simple and Simple Dark)
* Customizable background wallpaper
* Customizable font size
* Smooth animations

Minimum Requirements:
* for All Devices
o BlackBerry OS 4.2.1
* for BlackBerry Storm
o BlackBerry OS 4.2.1
for All Devices
Display Dimensions
160 x 160, 240 x 160, 240 x 240, 240 x 260, 240 x 320, 320 x 240, 480 x 320, 480 x 360
Operating System
4.2, 4.3, 4.5, 4.6
for BlackBerry Storm
Display Dimensions
480 x 360
Operating System
4.7 Touch Screen
Please Email Me For Serial Numbers.
Be Sure To Include The Application Name And Your PIN
Request Serial