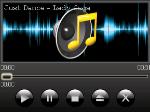 Tag:
Ringtone
Creator
Overview :
free Ringtone Creator apps for blackberry
Description:
Easily create your own Ringtones directly from your BlackBerry.
Features:
Simply choose a song, select a starting point and save your new Ringtone file
Advanced users can also set the end point if desired
Provides the ability to add a fade in, fade out effect to your Ringtone
Increase or decrease the actual Ringtone volume when needed
This software could be used to create alert sounds as well
Use any songs stored in your BlackBerry or on a media card to create your Ringtones
Ringtones can be stored on your BlackBerry or media card
No computer software is required
No subscription or monthly fees
Only MP3 files are supported
Does not come with any songs
Install with DM. Enjoy!
No Serial or Crack Needed
Model:
Blackberry 82XX Series (240x320) Pearl Flip Devices Models: 8200, 8220, 8230/Blackberry 8350i (320*240) Series: 8350i, 8500, 8520/ Blackberry 83XX Series (320*240) Curve Devices Models: 8300, 8310, 8320, 8330/Blackberry 87XX Series (320*240) Devices Models: 8700c, 8700r, 8700f, 8700g, 8703e, 8707, 8707g, 8707v .etc /Blackberry 88XX Series (320*240) Devices Models: 8800, 8820, 8830 .etc /Blackberry 89XX Curve Series (480*360): 8900(Javelin), 8910(Atlas)/Blackberry 90XX Bold (Onyx) Series (480*320) Devices Models: 9000, 9020(Onyx)/Blackberry 95XX Storm Series (360*480): 9500, 9510, 9520, 9530, 9550(Storm2)/Blackberry 96XX Tour (Niagara) Series (480*360): 9600, 9630 Niagara, 9650, 9700