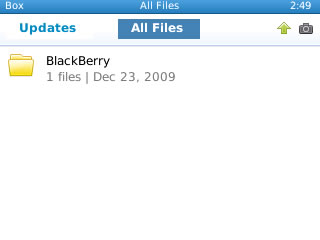 Tag:
BoxMobile
Overview :
Model:
Blackberry 8350i (320*240) Related Devices Model: 8500, 8520/Blackberry 83XX Series (320*240) Curve Devices Models: 8300, 8310, 8320, 8330 / Blackberry 87XX Series (320*240) Devices Models: 8700c, 8700r, 8700f, 8700g, 8703e, 8707, 8707g, 8707v .etc /Blackberry 88XX Series (320*240) Devices Models: 8800, 8820, 8830 .etc
Description:
Box.net announced today the launch of Box Mobile for BlackBerry smartphones from Research In Motion (RIM). With the push of a button, Box Mobile enables Box.net users to access their Box.net accounts as well as share files directly from their BlackBerry smartphone.
BlackBerry smartphone owners can use Box.net's service to quickly and easily access content stored online. Box Mobile saves time for users who are on the road or out of the office and need access to their data – from documents to videos to photos – and want to share these files with colleagues, friends and family. Box.net also plans to develop and expand the functionality in future releases.
"The announcement reflects the growing importance for anytime, anywhere connectivity so that you can access your information for business or personal use," said Karen Appleton, VP of Business Development, Box.net. "The Box Mobile application makes it easier than ever for Box.net users to stay connected and be productive using their BlackBerry smartphone."
Box Mobile is available now for download from Box.net's website (www.box.net/blackberry) and mobile site (m.box.net).