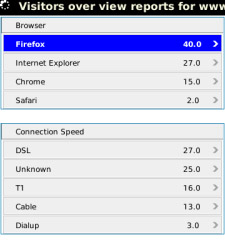 Tag:
storm apps
Tool
Analytics
Overview :
Analytics Tool V1.4 95xx storm apps
Model:
Blackberry 95XX Storm Series (360*480):9500, 9510, 9520, 9530, 9550(Storm2)
Description:
Update 1.4: Filtering of the dates possible.
Working Well now.
* Now, check out your Google Analytics statistics on your blackberry wherever you are.
* The Analytics tool application will provide you a simple user interface for the Google Analytics.
* This application gives you an overview over all your profiles in Google Analytics.
* Have a glance of your website statistics even when you are on a run.
* You have a sudden presentation in your company & you need to share some important statistics & data, do not worry!!
* Use this Analytics tool application to access all your data & statistics regarding your websites anywhere anytime.
The information which this application provides you on your website is as follows:
Dash Board
E-Commerce
Visitors
Goals
Site search
Traffic Overview
Event tracking Overview
* For using this application, all you need is a Google Analytics account.
* The main goal of this application is to give you a very quick access & analysis of your website.
* This application can help you in tracking the visitors on your websites, providing the information which you need to analyze at your finger tips.
* The graphs & charts will help you in analyzing your websites easily, clearly & quickly.
* You would be getting the data of your websites: the page views, time spent on the website, browser used, bounce rate, durations, traffic, visitor information, etc.
Features:
* * Huge data & custom reports of your websites
* * Simple & Easy to use interface
* * Around 50 reports can be seen using this application
* * Gives you the graphs for analysis purpose quickly
* * Get to view the detailed overview reports for multiple statistics
* * Safe & secure connections
* * Multiple accounts & multiple websites can be worked at a time using this application
* * Displays Google Analytics Dashboard statistics for all profiles
* * Use your free Google Analytics account, and easily swap between any site in your account.
* * Content: This gives you the website content's analysis including the visits, average time spent on the site, content by title, etc
* * Dash board: This gives you the complete overview of the website. Traffic overview, visitors overview, map overlay, content overview will be displayed here. The duration of the traffic you want to view also can be seen here in dash board.
* * E-Commerce: Provides you the revenue & Business activity information of your websites
* * Goals: This is used to set your goals & extract the relevant data. This will help you in monitoring the visitor details & the website details.
* * Site search: Used to provide a means to analyze how visitors search the content on your site if you have a site search tool. Get to know the visits, search & content here.
* * Today: Today's traffic on your website can be viewed here
* * Event Tracking Overview: This will help you in mapping the elements in the Analytics Reports interface. All categories, actions, labels etc will be listed here.
* * Traffic: Track your traffic on your website here. Learn how to track, monitor, measure and make sense of the large quantity of data your web visitors leave on your server.