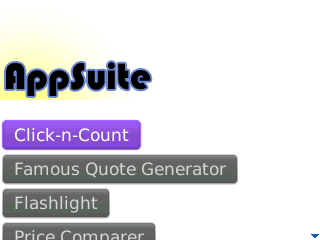 Tag:
AppSuite
Overview :
AppSuite: 7 apps in 1! Get your Unit Converter, Tip Calculator, Famous Quotes Generator, Click-n-Count counter, Price Comparer, Random Number Generator and LED Flashlight in one application. You can find similar apps for $2.99 each or even more, but with this app you get them all for only $2.99. This is the app kit for everybody.
Also, this app is regularly updated. That means when you buy AppSuite you will get even more apps for no extra charge!
This is the app kit for everybody! Download AppSuite for only $2.99 and have this diverse set of apps at your fingertips.
Features:
* Click-n-Count: Single click/touch counting. Keep track of your fantasy football score, your Daughter's baseball stats, or just about anything you can count. Save them and open them later. Count up to 100 items simoultaneously.
* Famous Quote Generator: Over 2900 quotes from prominent people. Browse the database of quotes, search a name or topic, bookmark a quote or SMS a quote to one of your contacts. (SMS function on 8350i and devices with OS 5.0 temporarily doesn't work due to device constraints)
* Flashlight: Turn your LED status light to a high intensity white. The light is bright enough to read a book in a dark room with ease and illuminate a pitch black room for walking or finding objects. The status light is not quite as bright as the camera flash, but is suitable for general purpose and consumes less battery power.
* Price Comparer: Use this app for comparing prices. Enter in the price of the item, the number of units (weight, volume etc) and the Price Comparer will show you which item has the lowest price per unit.
* Random Number Generator: Need more be said?
* Tip Calculator: Calculates the tip and how much each person in your restaurant party owes in a jiffy.
* Unit Converter: Converts amounts from one unit of measure to another. Units covered are area, length, mass/weight, temperature, time and volume. The interface is easy to use, good for doing conversion after conversion.

Minimum Requirements:
* OS 4.3+, trackball or touchscreen device

Display Dimensions
240x240, 240x260, 240x320, 320x240, 360x480, 480x320, 480x360
Operating System
4.3, 4.5, 4.6, 4.7 Non-Touch, 4.7 Touch Screen, 5.0 Non-Touch, 5.0 Touch Screen
Model:
Blackberry 81XX Series (240*260) Pearl Devices Models: 8100, 8110, 8120, 8130/Blackberry 82XX Series (240x320) Pearl Flip Devices Models: 8200, 8220, 8230/Blackberry 8350i (320*240) Related Devices Model: 8500, 8520, 8530/Blackberry 83XX Series (320*240) Curve Devices Models: 8300, 8310, 8320, 8330 / Blackberry 87XX Series (320*240) Devices Models: 8700c, 8700r, 8700f, 8700g, 8703e, 8707, 8707g, 8707v .etc /Blackberry 88XX Series (320*240) Devices Models: 8800, 8820, 8830 .etc /Blackberry 89XX Curve Series (480*360): 8900(Javelin), 8910(Atlas)/Blackberry 90XX Bold (Onyx) Series (480*320) Devices Models: 9000, 9020(Onyx)/Blackberry 96XX Tour (Niagara) Series (480*360):9600, 9630, 9650(Tour2), 9700(Bold2) /Blackberry 95XX Storm Series (360*480):9500, 9510, 9520, 9530, 9550(Storm2)/Blackberry Pearl 3G Series (360*400) Devices Models: 9100, 9105