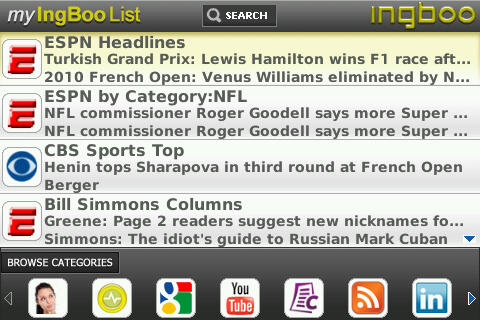 Tag:
IngBoo
WebStart
Overview :
free IngBoo WebStart for blackberry apps download
Description:
IngBoo is much more than the good old RSS Reader. Access all your web activities in one place--news, blogs, deals on craigslist and eBay, sports, job searches, sticky searches on Google, YouTube, Hulu and much more.
Setup your IngBoo List once and then let IngBoo bring latest updates to you. You will enjoy our unique information snacking experience and save time and money!.
* Get your daily news and tech blog updates from multiple sources
* Find a job on top 5 job engines
* Track your searches on google, bing, youtube, twitter etc
* Never miss on good deals on Craigslist, eBay etc
* Monitor your home price and package deliveries
* Get your social updates from LinkedIn, Twitter, Facebook
* Get updates on your favorite blog
Made by: IngBoo Inc
Model:
Blackberry 82XX Series (240x320) Pearl Flip Devices Models: 8200, 8220, 8230/Blackberry 8350i (320*240) Related Devices Model: 8500, 8520, 8530/Blackberry 83XX Series (320*240) Curve Devices Models: 8300, 8310, 8320, 8330 / Blackberry 87XX Series (320*240) Devices Models: 8700c, 8700r, 8700f, 8700g, 8703e, 8707, 8707g, 8707v .etc /Blackberry 88XX Series (320*240) Devices Models: 8800, 8820, 8830 .etc /Blackberry 89XX Curve Series (480*360): 8900(Javelin), 8910(Atlas)/Blackberry 90XX Bold (Onyx) Series (480*320) Devices Models: 9000, 9020(Onyx)/Blackberry 96XX Tour (Niagara) Series (480*360):9600, 9630, 9650(Tour2), 9700(Bold2) /Blackberry 95XX Storm Series (360*480):9500, 9510, 9520, 9530, 9550(Storm2)/Blackberry Pearl 3G Series (360*400) Devices Models: 9100, 9105