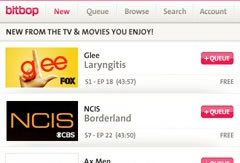 Tag:
BitBop
Overview :
BitBop Beta v1.0.1
Description:
Thanks to the inclusion of Flash, some intrepid users have figured out how to watch Hulu on the latest edition of Android. Of course, Froyo isn't officially available yet, and, even if it were, it wouldn't be of any help to non-Android owners. But while Hulu drags its feet on entering the mobile space, Bitbop, a Fox-backed streaming TV service, is landing on handsets now with a beta version of an official app.
Oddly, Bitbop is available only on BlackBerry at the moment, but you'll find all your Hulu favorites, including '30 Rock' and '24,' and feature-length films to come soon. Content partners for Bitbop are almost identical to those for Hulu (e.g., Fox, NBC, CBS and Comedy Central), but sadly some big names are missing (in particular, 'The Daily Show,' 'The Colbert Report,' and 'The Simpsons'). On the plus side, streaming works over both 3G and Wi-Fi, and, for the moment at least, the service is free. Eventually, Bitbop will add the option of a $10-a-month premium subscription, which will be required for mobile streaming and will feature no advertising. iPhone and Android owners need not worry, though. Bitbop has apps for those platforms in the works as well. If Hulu doesn't want to miss the mobile bus, it'd better get moving. [From: Bitbop, via: Engadget]
PS: Beta version is free until beta testing is done.
Compatible with os 4.6 and up
Model:
Blackberry 89XX Curve Series (480*360): 8900(Javelin), 8910(Atlas)/Blackberry 90XX Bold (Onyx) Series (480*320) Devices Models: 9000, 9020(Onyx)/Blackberry 96XX Tour (Niagara) Series (480*360):9600, 9630, 9650(Tour2), 9700(Bold2)