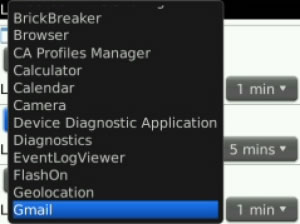 Tag:
Leave
Overview :
Leave it on v2.00.68
Description:
Take control over your backlight. Want it to stay on longer or not turn off when running a specific application?
When running certain applications you are limited to your default backlight time out of just a few seconds. Ever wanted to way to just leave the backlight on? Using Google Maps for navigation and the screen keeps turning off? Leave It On is the solution for you.
Now with animated Pop-up Alerts! Its 2 apps in 1. Pop-ups will notify you of new messages and pressing the trackball or BB key will launch that app (clicking pop-up on Storm)*. Watch the video to see pop-ups in action!
Built-in pop-up/backlight support for: AIM, BBM, e-mail, Facebook, BBM Groups, GTalk, Gmail, ICQ, IM+, Skype, Social Scope, SMS, Twitter for BB, UberTwitter, WhatsApp, WLM, Yahoo.
For developers you can now integrate Leave It On pop-ups into your own apps, visit our website for details.
Example applications usage for Leave It On for automatic backlight:
Google Maps
Shazam
GPS applications
Media Player
Web Browser
Blackberry Messenger
Weather Apps (WeatherBug, Berryweather with Radar Maps)
TuneWiki
Kindle Reader
Please Note: A reboot (battery pull or soft reset) may be required after 1st installation.
* SMS can only be launched from Pop-up on QWERTY keyboard devices.
Features:
* Leave the backlight on automatically for up to 8 applications. Just launch the application and Leave It On will automatically keep the backlight on for you.
* Keep the backlight on while charging, through USB, car charger or regular charger.
* Low battery setting. Disable the backlight from staying on when the battery falls below a certain percent (configurable)
* Set how long to keep the backlight on for, settings from 1 minute to 2 hours or never.
* System wide "Leave It On" menu option so you can leave the backlight on at the click of a button
* Customize pop-up options, text colour, duration to stay on screen and more
* Turn on the screen and popup options built in for over 17 applications

Minimum Requirements:
* OS 4.2

Display Dimensions
240x240, 240x260, 240x320, 320x240, 360x480, 480x320, 480x360
Operating System
4.2, 4.3, 4.5, 4.6, 4.7 Non-Touch, 4.7 Touch Screen, 5.0 Non-Touch, 5.0 Touch Screen
Model:
Blackberry 72XX Series (240*160) Devices Models: 7200, 7210, 7230, 7250, 7270, 7280, 7290, 7510, 7520, 6510/Blackberry 71XX Series (240*260) Devices Models: 7100, 7110t, 7105t, 7100r, 7100v, 7100g, 7100x, 7100i, 7130e, 7130c, 7130g, 7130v/Blackberry 81XX Series (240*260) Pearl Devices Models: 8100, 8110, 8120, 8130/Blackberry 82XX Series (240x320) Pearl Flip Devices Models: 8200, 8220, 8230/Blackberry 8350i (320*240) Related Devices Model: 8500, 8520, 8530, 9300/Blackberry 83XX Series (320*240) Curve Devices Models: 8300, 8310, 8320, 8330 / Blackberry 87XX Series (320*240) Devices Models: 8700c, 8700r, 8700f, 8700g, 8703e, 8707, 8707g, 8707v .etc /Blackberry 88XX Series (320*240) Devices Models: 8800, 8820, 8830 .etc /Blackberry 89XX Curve Series (480*360): 8900(Javelin), 8910(Atlas), 8950/Blackberry 90XX Bold (Onyx) Series (480*320) Devices Models: 9000, 9020(Onyx)/Blackberry 96XX Tour (Niagara) Series (480*360):9600, 9630, 9650(Tour2), 9700(Bold2) /Blackberry 95XX Storm Series (360*480):9500, 9510, 9520, 9530, 9550(Storm2)/Blackberry Pearl 3G Series (360*400) Devices Models: 9100, 9105