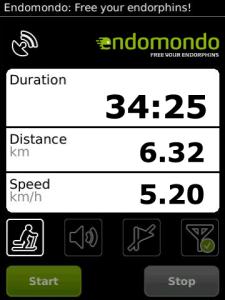 Tag:
Sports
Endomondo
Tracker
Overview :
New and completely redesigned version of Endomondo Sports Tracker - a free application that makes sports more fun by acting as your personal training partner. Using the built-in GPS, it tracks your running, cycling, hiking, kayaking, skiing - you name it!
App. Features:
Track any outdoor sport including duration, distance and speed
Get audio feedback while exercising
Get live peptalks from friends read out loud whilst exercising
View history of workouts
Study split times per km or mile
See your route on a map
NEW in v5.0: Redesigned and touch compatible for Storm and Storm 2
With the accompanying free website, www.endomondo.com, you get a wide range of functions and the ability to compete against your friends.
Website Features:
Get an overview of your workout history and statistics
Share workouts on Facebook and Twitter
Compete against friends and people in your area. Who runs the fastest 5K? Or burns the most calories?
Let your friends and family follow you live while you are training or participating in a sports event
Get ready to free your endorphins!
Model:
Blackberry 82XX Series (240x320) Pearl Flip Devices Models: 8200, 8220, 8230/Blackberry 8350i (320*240) Series: 8350i, 8500, 8520, 9300/ Blackberry 83XX Series (320*240) Curve Devices Models: 8300, 8310, 8320, 8330/Blackberry 87XX Series (320*240) Devices Models: 8700c, 8700r, 8700f, 8700g, 8703e, 8707, 8707g, 8707v .etc /Blackberry 88XX Series (320*240) Devices Models: 8800, 8820, 8830 .etc /Blackberry 89XX Curve Series (480*360): 8900(Javelin), 8910(Atlas), 8950/Blackberry 90XX Bold (Onyx) Series (480*320) Devices Models: 9000, 9020(Onyx)/Blackberry 95XX Storm Series (360*480): 9500, 9510, 9520, 9530, 9550(Storm2)/Blackberry 96XX Tour (Niagara) Series (480*360): 9600, 9630 Niagara, 9650, 9700/Blackberry Pearl 3G Series (360*400) Devices Models: 9100, 9105