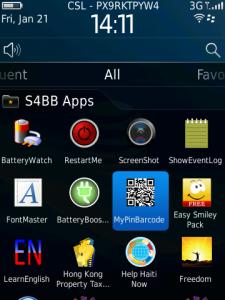 Tag:
BBM
PIN Barcode
Overview :
My Pin Barcode is a very simple that allows you to show your BBM Pin barcode with just one click!
Features:
* One click access
* Shows BBM barcode
* Instructions for convenience key setup
* Launch from everywhere
Convenience Key Notice: If you want to be able to access this application from within any application on your BlackBerry?smartphone with just one click, you can assign "MyPinBarcode" to your phone's convenience key. To do so, please go to your phone's "Options - Device - Convenience Key", select "MyPinBarcode" in the list and confirm. From now on, this app will come up every time you click your convenience key.
*** FAQ ***
Q: What does barcode mean?
A: Such barcodes are sometimes also referred to as "QR Code" or "2D Barcode". A barcode usually contains some sort of information which can be used by programs (like cameras) to perform a certain action.
Q: What does the barcode contain?
A: The barcode contains your device PIN which is a unique identifier of your phone. This PIN is associated to your BlackBerry Messenger account and therefore, it identifies your BBM account.
Q: What should people I show the barcode to, do with it?
A: The person you show the barcode to can open BBM and
1) Select "invite" and then "by barcode"
or
2) Open the menu and select "Scan group barcode"
both will bring up the camera which will scan the barcode and your contact will automatically be added to your friend's BBM contact list. You just need to confirm his/her authorization request in your BBM and you're done.
Please write a review if you like this app.
Minimum requirements:
Operating System
6.0 Non-Touch, 6.0 Touch Screen, Tablet OS
Model:
Blackberry 95XX Storm Series (360*480):9570(Storm3), 9800(Torch), Torch2/Blackberry Pearl 3G Series (360*400) Devices Models: 9100, 9105, 9670(Style)/Blackberry Playbook