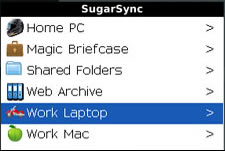 Tag:
SugarSync
Overview :
free SugarSync v1.5.1 apps for blackberry download
Description:
Some BlackBerry users may see a message stating they are attempting to open a secure connection, but the server's certificate has expired. They should press "Continue" to allow the application to proceed. We believe this problem is due to the inability of these devices to handle modern SSL certificates.
Version 1.5.1 for Blackberry has been posted to BlackBerry App World and will be available on our Downloads page. In this release:
•Fixed unable to send file using certain BlackBerry network connections.
•Fixed music streaming for BlackBerry 6.0.
SugarSync for Blackberry features:
Remote file access and editing: Retrieve, edit and upload files stored on other computers and the Internet (including Microsoft Office docs, music, videos, and more). Note: May require a Blackberry document editor.*
On-demand synchronization: SugarSync will detect any file changes and present the opportunity to upload revisions back to the cloud (and to multiple synced computers).
Shared Folders: Send files and folders (large and small) to anyone via an email sent directly from the Blackberry, and collaborate on projects through a Web-based Shared Folder (which can sync back to the Blackberry).
Powerful Photo Features: Easy browsing with a thumbnail wall display of photo albums, enjoy detail with high resolution photo viewing, and directly upload and sync photos taken with the integrated Blackberry camera.
Model:
Blackberry 82XX Series (240*320) Pearl Flip Devices Models: 8200, 8220, 8230/Blackberry 8350i (320*240) Related Devices Model: 8500, 8520, 8530, 9300(Kepler), 9330/Blackberry 83XX Series (320*240) Curve Devices Models: 8300, 8310, 8320, 8330 / Blackberry 87XX Series (320*240) Devices Models: 8700c, 8700r, 8700f, 8700g, 8703e, 8707, 8707g, 8707v .etc /Blackberry 88XX Series (320*240) Devices Models: 8800, 8820, 8830 .etc /Blackberry 89XX Curve Series (480*360): 8900(Javelin), 8910(Atlas), 8930, 8950, 8980/Blackberry 90XX Bold (Onyx) Series (480*320) Devices Models: 9000, 9020(Onyx)/Blackberry 96XX Tour (Niagara) Series (480*360):9600, 9630, 9650(Tour2), 9700(Bold2), 9780, Dakota, Apollo /Blackberry 95XX Storm Series (360*480):9500, 9510, 9520, 9530, 9550(Storm2), 9570(Storm3), 9800(Torch), Torch2/Blackberry Pearl 3G Series (360*400) Devices Models: 9100, 9105, 9670(Style)