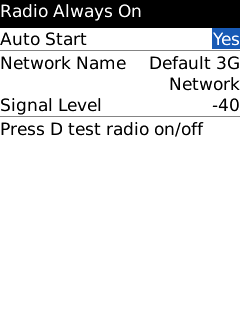 Tag:
RadioOn
Overview :
RadioOn - best blackberry apps
Description:
Always heard complaints about BlackBerry's radio/signal became OFF for no reason, resulting in a lot of missed calls and delayed messages.
Now with RadioOn, you don't need to worry about this.
RadioOn will turn on radio automatically when working background.
Download now and keep your Radio on.
You need to manually exit this app when your battery is low or out of coverage. You can also purchase RadioON Pro for better performance and have a clear log of your radio activity.
Features:
Keep radio on
Start with system
Free

Minimum Requirements:
•BlackBerry 4.2 OS or above
Display Dimensions
160x160, 240x160, 240x240, 240x260, 240x320, 320x240, 360x480, 480x320, 480x360
Operating System
4.2, 4.3, 4.5, 4.6, 4.7 Non-Touch, 4.7 Touch Screen
Model:
Blackberry 72XX Series (240*160) Devices Models: 7200, 7210, 7230, 7250, 7270, 7280, 7290, 7510, 7520, 6510/Blackberry 71XX Series (240*260) Devices Models: 7100, 7110t, 7105t, 7100r, 7100v, 7100g, 7100x, 7100i, 7130e, 7130c, 7130g, 7130v/Blackberry 81XX Series (240*260) Pearl Devices Models: 8100, 8110, 8120, 8130/Blackberry 82XX Series (240*320) Pearl Flip Devices Models: 8200, 8220, 8230/Blackberry 8350i (320*240) Related Devices Model: 8500, 8520, 8530, 9300(Kepler)/Blackberry 83XX Series (320*240) Curve Devices Models: 8300, 8310, 8320, 8330 / Blackberry 87XX Series (320*240) Devices Models: 8700c, 8700r, 8700f, 8700g, 8703e, 8707, 8707g, 8707v .etc /Blackberry 88XX Series (320*240) Devices Models: 8800, 8820, 8830 .etc /Blackberry 89XX Curve Series (480*360): 8900(Javelin), 8910(Atlas), 8930, 8950, 8980/Blackberry 90XX Bold (Onyx) Series (480*320) Devices Models: 9000, 9020(Onyx)/Blackberry 96XX Tour (Niagara) Series (480*360):9600, 9630, 9650(Tour2), 9670, 9700(Bold2), 9780 /Blackberry 95XX Storm Series (360*480):9500, 9510, 9520, 9530, 9550(Storm2), 9570(Storm3), 9800(Torch)/Blackberry Pearl 3G Series (360*400) Devices Models: 9100, 9105