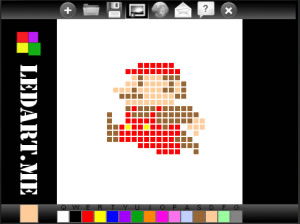 Tag:
LEDartME
Overview :
LEDart.ME - blackberry storm 2 apps
Description:
It's easy to create multi-colored designs on this LED board. 15 colors to choose from. Create a new design and save it, or just start a new one. If you save your design you can pick it up again whenever you have the time.
Send the designs to your friends or share them online!
This app is perfect for killing the boredom on the bus, in the taxi, class or the office. Just open the app up and draw out whatever you want.
** Requires SD Card **
Only for Blackberry OS 5 +
Model:
Blackberry 8350i (320*240) Related Devices Model: 8500, 8520, 8530, 9300(Kepler)/Blackberry 89XX Curve Series (480*360): 8900(Javelin), 8910(Atlas), 8930, 8950, 8980/Blackberry 90XX Bold (Onyx) Series (480*320) Devices Models: 9000, 9020(Onyx)/Blackberry 96XX Tour (Niagara) Series (480*360):9600, 9630, 9650(Tour2), 9670, 9700(Bold2), 9780 /Blackberry 95XX Storm Series (360*480):9500, 9510, 9520, 9530, 9550(Storm2), 9570(Storm3), 9800(Torch)/Blackberry Pearl 3G Series (360*400) Devices Models: 9100, 9105