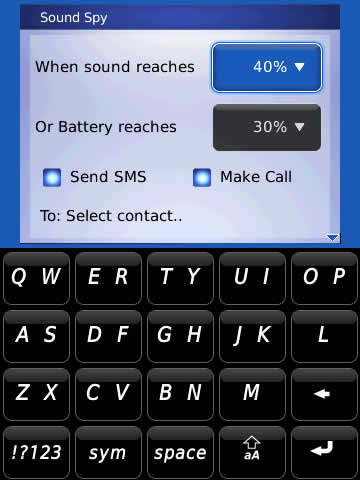 Tag:
VT Sound Spy
Overview :
free VT Sound Spy v1.0 apps for blackberry

VT Sound Spy monitors surrounding sound activity, and acts by making a call or sending SMS to specified phone number. Virtually turns your phone into high-tech remote listening tool, beating any walkie-talkie type sound monitors with superb quality and unlimited distance.
While VT Sound Spy is working, You can go outside, visit neighbors, go shopping, or anything else - when something noisy happens, You will be the first one to know about it.
VT Sound Spy uses your Mobile network, therefore, make sure your phone can make calls or send SMS.
For application to work, phone must use GSM network, and will not work if phone works in CDMA network.
It will boost your imagination - make a unique use of it and have fun!
Features:
* Set / Monitor sound and battery levels
* Send SMS or call when there is noise
* Listen to remote location sound
* Low battery consumption
* Works in any distance and through walls
* Resumes monitoring after silence
* Perfect for monitoring babies
Minimum Requirements:
* 4.5 OS version or Higher
Display Dimensions
160x160, 240x160, 240x240, 240x260, 240x320, 320x240, 360x480, 480x320, 480x360
Operating System
4.5, 4.6, 4.7 Non-Touch, 5.0 Non-Touch
Model:
Blackberry 82XX Series (240*320) Pearl Flip Devices Models: 8200, 8220, 8230/Blackberry 8350i (320*240) Related Devices Model: 8500, 8520, 8530, 9300(Kepler), 9330/Blackberry 83XX Series (320*240) Curve Devices Models: 8300, 8310, 8320, 8330 / Blackberry 87XX Series (320*240) Devices Models: 8700c, 8700r, 8700f, 8700g, 8703e, 8707, 8707g, 8707v .etc /Blackberry 88XX Series (320*240) Devices Models: 8800, 8820, 8830 .etc /Blackberry 89XX Curve Series (480*360): 8900(Javelin), 8910(Atlas), 8930, 8950, 8980/Blackberry 90XX Bold (Onyx) Series (480*320) Devices Models: 9000, 9020(Onyx)/Blackberry 96XX Tour (Niagara) Series (480*360):9600, 9630, 9650(Tour2), 9700(Bold2), 9780, Dakota, Apollo /Blackberry 95XX Storm Series (360*480):9500, 9510, 9520, 9530, 9550(Storm2), 9570(Storm3), 9800(Torch), Torch2/Blackberry Pearl 3G Series (360*400) Devices Models: 9100, 9105, 9670(Style)