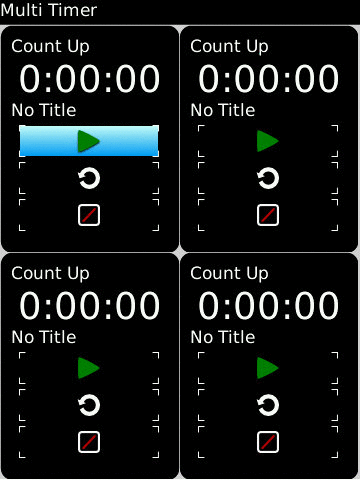 Tag:
MultiTimer
Overview :
free blackberry apps : MultiTimer v1.0.2 for blackberry apps
MultiTimer is a application featuring 4 separate timers. All 4 timers can be used simultaneously in countdown or count up mode. Modeled after Laboratory timers in use all over the world, it combines the best features found in those timers and is just as useful in the laboratory as in the kitchen or when timing your kids soccer game. Anywhere you need to keep track of one or more timed operations, this application will make your life easier. It will run on all Blackberry devices with OS 5.0. Touch screen and keyboard.
In the free trial version only the top two counters are available and the maximum count down time is 10 minutes.
Customizable alarm
Timer title to keep track of what you are timing
Orientation lock on touch screen devices
Move application to background while running
Keep backlight on while running
Visual and audible alarm
Choose what happens when the timer runs out (stop, restart or count up)
Display Dimensions
360x480, 480x320, 480x360
Operating System
5.0 Non-Touch, 5.0 Touch Screen
Model:
Blackberry 89XX Curve Series (480*360): 8900(Javelin), 8910(Atlas), 8930, 8950, 8980/Blackberry 90XX Bold (Onyx) Series (480*320) Devices Models: 9000, 9020(Onyx)/Blackberry 96XX Tour (Niagara) Series (480*360):9600, 9630, 9650(Tour2), 9700(Bold2), 9780, Dakota /Blackberry 95XX Storm Series (360*480):9500, 9510, 9520, 9530, 9550(Storm2), 9570(Storm3), 9800(Torch), Torch 2