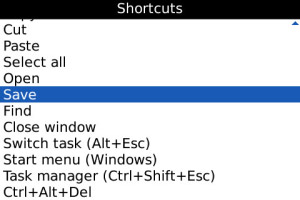 Tag:
Virtual
Network
VNC
Computing
Overview :
free VNC plus Virtual Network Computing v2.1.6 apps for blackberry

VNC+ provides an easy and convenient way for administrators to take control of remote machines, to diagnose and fix problems from their mobile devices. With our VNC client you can access computer based on Windows, Mac or Unix platforms. Access your files, e-mails, documents, edit and send them on the go.
Just install the application on your BlackBerry handheld, Symbian or Java phone, enter your IP host address and the password used in VNC on your desktop and you are ready to view and experience the mini desktop on your cell phone.
It's very easy to use VNC+! All you just need is to:
1. Install a VNC server on your computer (ex. RealVNC at http://realvnc.com, UltraVNC at http://ultravnc.com or TightVNC at http://www.tightvnc.com) and keep it running.
2. Download and install VNC+ on your mobile device (download from www.rdmplus.com or download OTA from bb.rdmplus.com)
3. Connect to your computer remotely and enjoy working!

Main Features
Friendly Interface.The user interface is extremely easy-to-use. You can start working immediately.
Full-screen View and Zooming. In full-screen mode you can see the remote screen on the entire screen of your device. Zoomed mode lets you see enlarged fragment of the desktop in more detail.
Direct input mode. You can use your mobile phone keyboard and a trackwheel instead of computer keyboard and a mouse.
Mouse and Keyboard options. Turn Mouse option on for selection and Keyboard option for typing.
Individual Shortcuts. Different shortcut sets for Windows, Linux, Mac OS. Copy, cut, paste or edit your document. Create and edit your own shortcuts.
Hotkeys. You can switch between different modes using predefined hotkeys. You can also create device-specific keys for mouse click and open desktop menu.
Powerful Security. SSH secure connection and encryption plugins for Ultra VNC are supported.
Wi-Fi connection. You can connect to the computer with Wi-Fi when you are within an area of Wi-Fi coverage. (For models that support Wi-Fi)

Model:
Blackberry 8350i (320*240) Related Devices Model: 8500, 8520, 8530, 9300(Kepler), 9330/Blackberry 83XX Series (320*240) Curve Devices Models: 8300, 8310, 8320, 8330 / Blackberry 87XX Series (320*240) Devices Models: 8700c, 8700r, 8700f, 8700g, 8703e, 8707, 8707g, 8707v .etc /Blackberry 88XX Series (320*240) Devices Models: 8800, 8820, 8830 .etc /Blackberry 89XX Curve Series (480*360): 8900(Javelin), 8910(Atlas), 8930, 8950, 8980/Blackberry 90XX Bold (Onyx) Series (480*320) Devices Models: 9000, 9020(Onyx)/Blackberry 96XX Tour (Niagara) Series (480*360):9600, 9630, 9650(Tour2), 9700(Bold2), 9780 /Blackberry 95XX Storm Series (360*480):9500, 9510, 9520, 9530, 9550(Storm2), 9570(Storm3), 9800(Torch)/Blackberry Pearl 3G Series (360*400) Devices Models: 9100, 9105, 9670(Style)